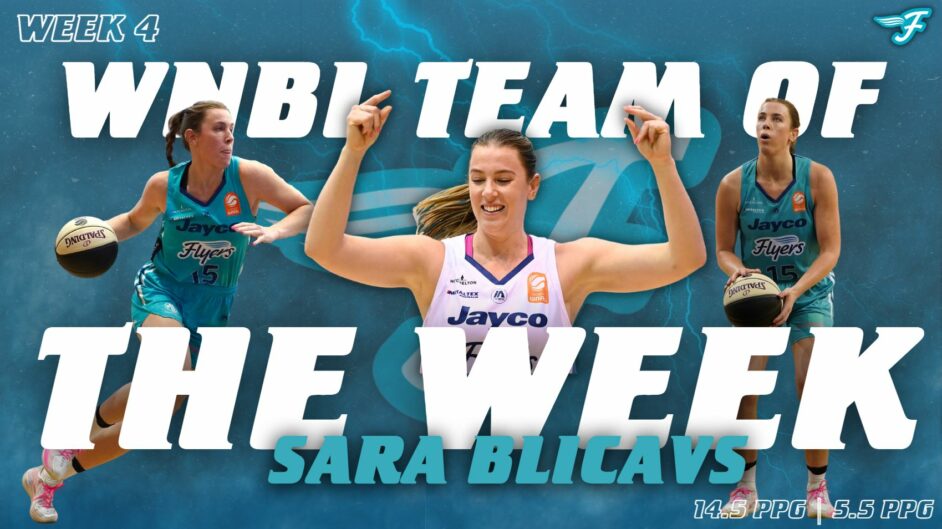 December 8, 2022 | Southside Flyers news
It may have been an 'up and down' round 4 for the Flyers, but not for Sara Blicavs.
Sara was named in the WNBL Team of the Round following her performances against the Sydney Flames and Adelaide Lightning. Blicavs averaged 14.5 points per game and 5.5 rebounds during the two games in round 4.
In the home victory over Sydney at the State Basketball Centre Blicavs had 13 points (at 41.7%), had 5 assists and 8 rebounds in 30 minutes of game time. In the loss to Adelaide on Saturday night, without LJ and Kayla Thornton in the team, Blicavs worked hard to accumlate 16 points in just over 30 minutes of game time.
Congratulation Sara, consistent high level performances that the Flyers fans are used to and looking forward to seeing again in the two games being played in round 5.
After a game high 26 points in the loss to Adelaide, combined with 3 assists and 6 rebounds, Maddy Rocci would have certainly been in contention to join Sara in the Team of the Week. That impressive stats sheet, along with the great defensive role she played, came in over 35 minutes of game time as the Flyers were reduced to just eight players for the game. In the victory over Sydney two days earlier Maddy scored 13 points in just over 20-minutes of game time. No doubt continuing at the level displayed in the Adelaide game will see Maddy Rocci in the WNBL Team of the Week very soon.