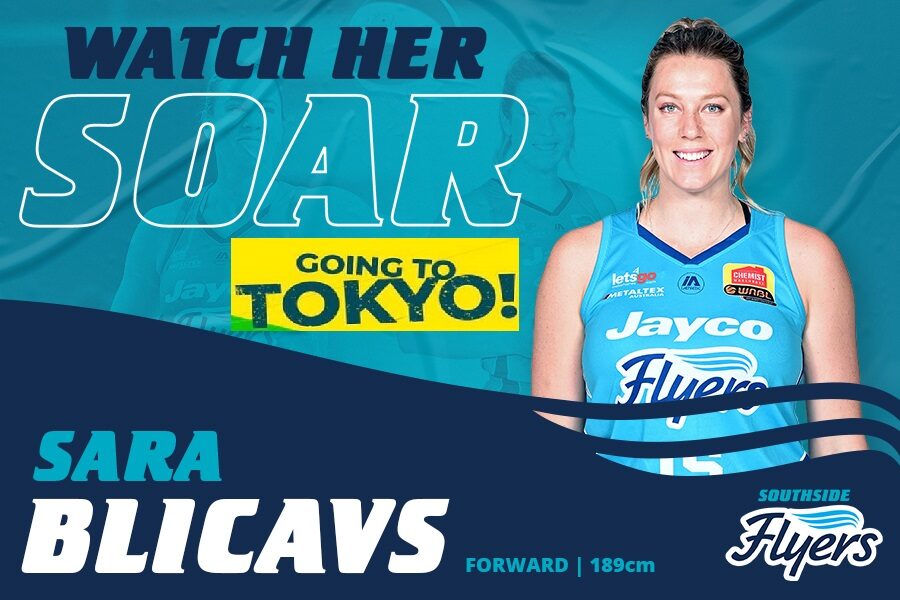 July 21, 2021 | Southside Flyers news
Congratulation to our very own, Sara Blicavs, who has  joined the Opals in Tokyo where she will make her Olympic debut. Sara joins Flyers Captain, Jenna O'Hea, who is also captain of the Opals, and Flyers Coach Cheryl Chambers, who is an Opals Assistant Coach, as part of this highly rated team at the Olympic Games.
It is a fitting reward for Blicavs, who enjoyed another great season as part of the Flyers Championship team in 2020. Blicavs was a member of the Opals squads in qualifying for the 2016 and this year's Olympic Games and was considered very unlucky to miss the final squad for Tokyo, being named as the first emergency.
Having represented Australia in International competition, in juniors before making her senior debut for the Opals at the 2015 FIBA Oceania Championships, representing her country at the Olympics and becoming an Olympian has been a lifetime goal for Sara. Her social media post was full of emotion and confirmed what a thrill and honour this is for her.
"Wow! What a roller coaster of emotions my last month has been, But, here is the silver linings, I'm stronger a person mentally and I'm now getting rewarded with my dream of playing at an Olympic Games"
 Blicavs follows in the footsteps of her parents who both played basketball for Australia. Father Andris was a member of the Australian team at the 1976 Olympic Games in Montreal and mother, Karen, 2017 Australian Basketball Hall of Fame inductee, represented Australia at the 1983 World Championships.
The Blicavs family is thrilled with Sara's call up to the team. Sister-in-law Steph, (teammate in the Flyers 2020 WNBL Championship), and brother Mark (AFL star with Geelong Cats), both spoke to the Geelong Advertiser about how exciting it is and a great reward for the hard work.
"We couldn't be more proud of her," Steph told the Geelong Advertiser.
"We have seen the hard work she has been putting in and even with the devastation of not making the team she has still been working really hard to make herself a better basketballer, so she is very prepared and deserving," Steph added.
Opals Coach, Sandy Brondello believes Sara will play an important role for the team in Tokyo and knows what it means to Blicavs.
"This is a dream that we all want to achieve in our careers and Sara's been playing great.
"She is a player that gets better every single year.
"She is versatile, she can shoot, she can rebound, she does a lot of great things, and she has been in the Opals system for so long – she is going to slip in really smoothly," said Brondello when confirming Sara's call up.
Sara replaces 2020 WNBL Championship teammate, Liz Cambage, who withdrew from the Olympics, citing mental-health issues.
All the best Sara, Jenna and Cheryl, and all the Opals. The Flyers family will be watching closely and hope it is a successful Olympic Games for the Opals.