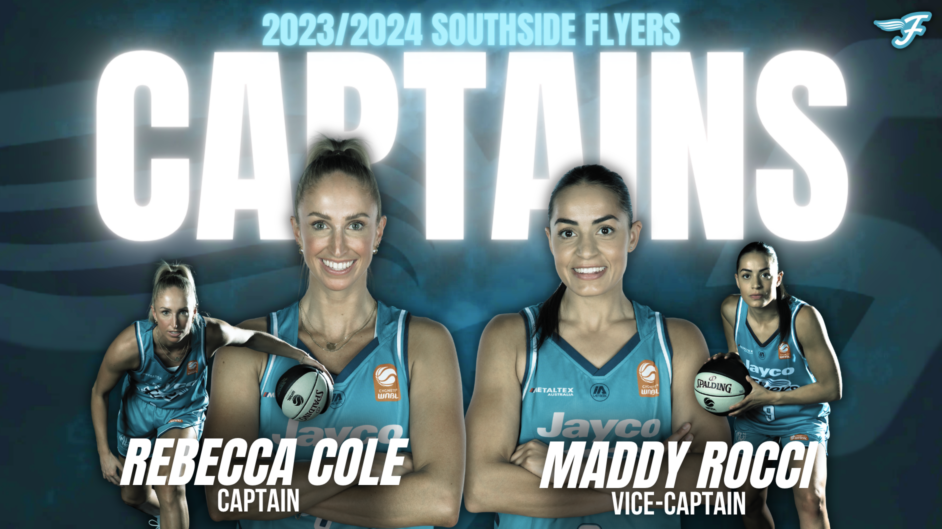 October 28, 2023 | Southside Flyers news
Bec and Maddy to lead the Flyers
Bec Cole, a Flyer since day one of the club, has been announced as the new Captain of Southside Flyers for the 2023/24 WNBL season. Maddy Rocci is the new Vice Captain as part of the new leadership group at the Flyers.
Coach Cheryl Chabers announced the appointments at the players season launch recently and said the appointments recognised their leadership skills, and reflected the respect Bec and Maddy had, not only within the team, but in the league.
Bec was thrilled to be announced as the Flyers Captain.
"This is a real honour, and I am very proud. I have been a Flyers since day one, I love this club and all the people involved and look forward to a great season. The Captaincy role is one amongst equals in this team, as we have such great leadership in our group."
For Maddy it was also very special to be announced as the Vice Captain.
"This a fantastic, I am so pleased to be part of this team and to be announced as the Vice Captain is very special. I have continued to work, not just on my game, but on my leadership skills and support for teammates and this is an important role for me."
The Flyers opening game of the season is a home game against Melbourne Boomers at the State Basketball Centre on Saturday November 4, tip off at 7:30pm. The game is part of the WNBL Indigenous Round and pre-game entertainment will feature Indigenous performers. As part of the lead up to the round, the Flyers will be involved in cultural sessions, part of the ongoing education for the players on important social and cultural issues.
Season Membership tickets are on sale until Sunday October 29.
Click here for the best available seats for the season – your very own reserved seat for all nine home games.
Click Here for tickets for the opening game against Melbourne Boomers.