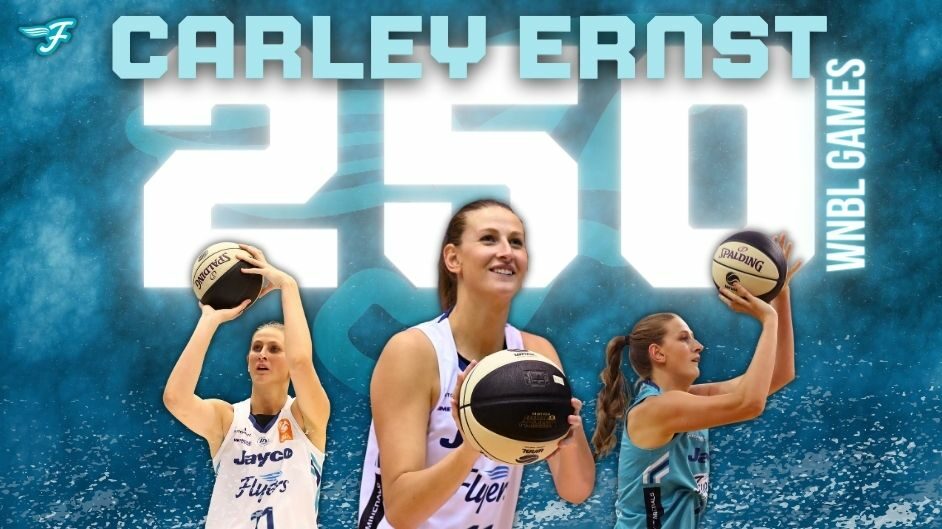 January 30, 2023 | Southside Flyers news
Another Flyer has reached a milestone with Carley Ernst playing her 250th game in the WNBL in the Southside colours, which was celebrated with a win against the Capitals.
Carley debuted for the Australian Institute of Sport (AIS) team in 2009, playing her first game in the WNBL at only 15 years old.
"My first game was back at AIS when they had a team… I can't remember who it was against but I'm pretty sure we got flogged. But no, it was a crazy experience being so young," she said.
"When I think about it 250 games are a lot, one game is a lot so when think I've done 250 it doesn't quite feel like it. But it's a really exciting milestone in my career so I am pretty stoked about it."
Celebrating a win for her milestone game, Carley's move to the Flyers this year has been full of success as they currently sit at the top of the ladder with no sign of slowing down.
"I'm loving it, we've got a great bunch of girls, girls who I went through the AIS with and I've played with before so it's a pretty special group and I'm really enjoying it," she said.
As a forward, Carley plays down low alongside Lauren Jackson, whose veteran presence has been impactful on the whole team.
"I think anyone would be excited to play with her, and getting to know her off the floor and when playing with her is pretty special," Carley said.
At 28 years of age, Carley still has a lot to give in the WNBL and to the Flyers, always playing her role and providing what is needed for the team. She has become the 77th WNBL Life Member and will be presented with her 250th milestone at John Cain Arena when the Flyers take on Sydney, this Saturday February 4.
Jayco Southside Flyers v Sydney Flames
Saturday February 4 at 6:30pm
John Cain Arena
Tickets available via Ticketek HERE