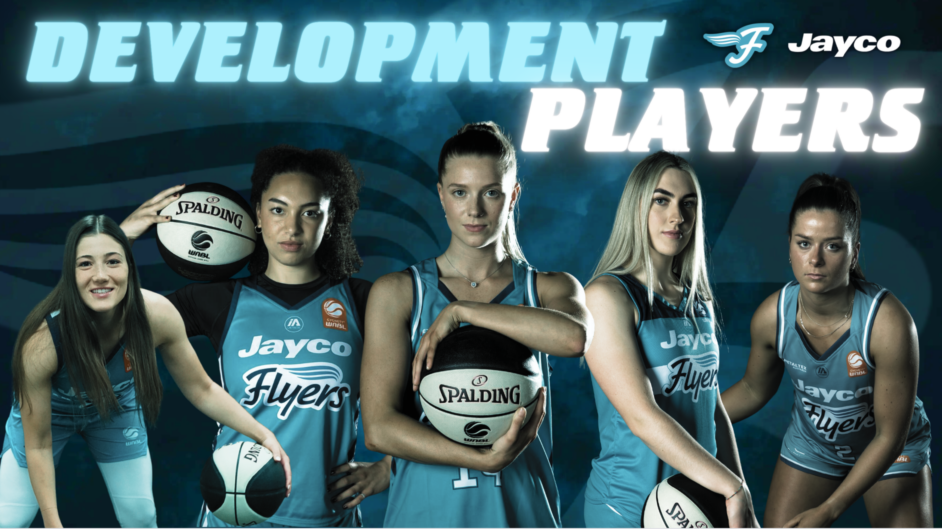 October 28, 2023 | Southside Flyers news
Development Players Join the Flyers
The Flyers playing squad for the 2023/24 WNBL season has been finalised with the naming of the Development Players.
Emma Nankervis, Nikita Young, Emily Fisher, Isis Lopes and Georgia Booth will be part of the Flyers squad in their important role as Development Players. This is an important step for each of these young players as they continue to strive to achieve their basketball dreams of playing in the WNBL fulltime.
"The Development players are so important to our team, they not only have important roles in our training, they provide great support and are also ready to step up if and when we need them to. It is a great opportunity for Emma, Emily, Georgia, Isis, and Nikita, and I know they are not just looking forward to the season but are determined to make the most of this opportunity," said Flyers Coach Cheryl Chambers.
Click here for the best available seats for the season – your very own reserved seat for all nine home games.
Click Here for tickets for the opening game against Melbourne Boomers.
The Flyers Playing Group:
Bec Cole – 1
Lou Brown – 4
Leilani Mitchell -5
Dallas Loughridge – 7
Maddy Rocci – 9
Carley Ernst – 11
Klara Wischer – 12
Nyadiew Puoch – 13
Lauren Jackson – 15
Jasmine Dickey – 20
Mercedes Russell – 21
Development Players
Emma Nankervis – 3
Nikita Young – 6
Emily Fisher – 8
Isis Lopes – 10
Georgia Booth – 17