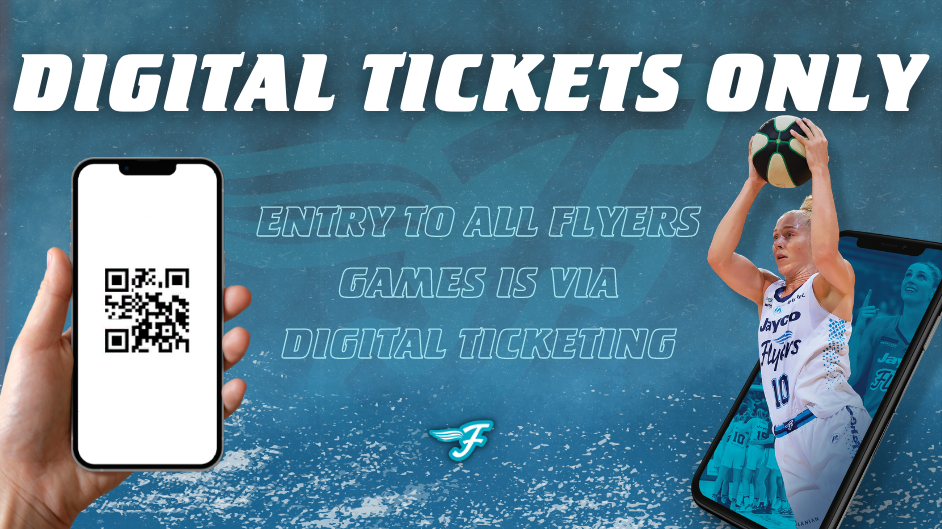 October 30, 2022 | Southside Flyers news
Tickets for Flyers games must be pre-purchased and downloaded on your phone for entry to all games in the 2022/23 season.
Entry to all Flyers home games at the State Basketball Centre will be via a digital barcode on your mobile phone. This is in line with all other major sporting venues, providing easy access for all spectators.
Your digital game ticket will provide entry to the venue and your reserved seat for the game. Simply scan your digital ticket as you enter the stadium and make your way to your reserved seat to see all the action.
Members will also have digital tickets on their phone for easy entry to the venue.
"This is about making it as easy as possible for everyone attending the games. We all take our mobile phones with us so this way we will have our entry tickets with us, we don't have to worry about printing off or leaving them at home," said Alex Grant, Founder and Executive Director of Intix, the official ticketing Agency for Flyers home games.
Supporters are urged to pre-purchase tickets online for all games as the availability of tickets at the door will be limited and subject to capacity. Purchasing online is cheaper and more convenient.
"This is about creating a better experience and not having to wait around to purchase tickets and cutting down on paper ticketing. People can purchase online for every game during the season, right up until tip-off for each game," Alex added.
Click Here to purchase tickets for the opening game of the season against Adelaide on Saturday November 5. Tip-off 7:00pm.
Click Here to purchase tickets to the round 2 clash against the Boomers on Wednesday November 9. Tip-off 6:30pm.
Purchase Tickets to all Flyers Home Games Here
Membership Tickets are still available – providing the best seating for all 9 Flyers home games at the State Basketball Centre. Join Lauren Jackson and become part of the Flyers Family