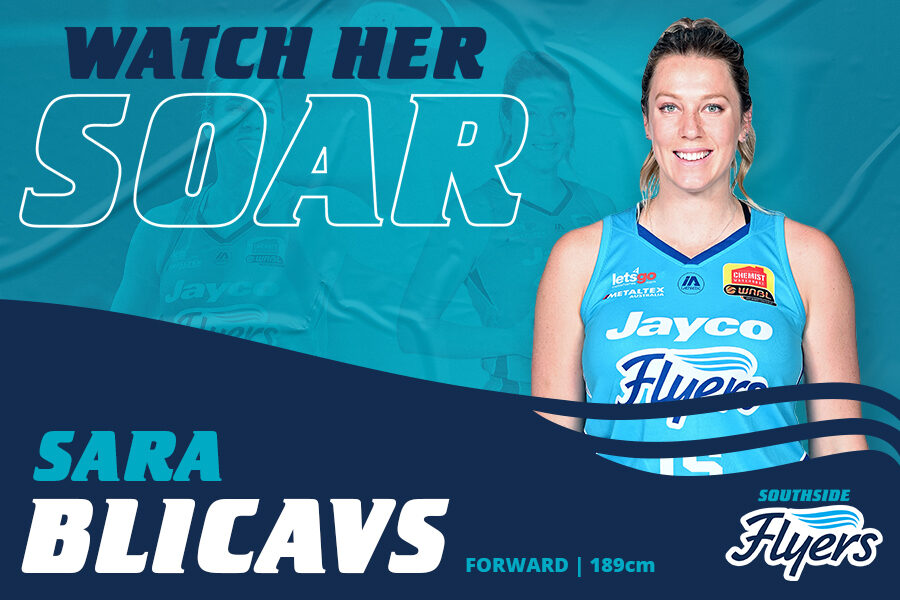 June 10, 2021 | Southside Flyers news
Sara Blicavs has confirmed her future is with Southside Flyers and is looking forward to a new challenge in the upcoming 21-22 WNBL season.
"Last season our challenge was to go one better after playing off the Grand Final in our first season in the WNBL. This season it is about defending our title. Winning the Championship was very special, and I am keen to enjoy that feeling again with my Flyers teammates.
"I love playing with the Flyers, the on court success is only part of why it is so enjoyable. The Flyers are a very professional club and have a fantastic culture. There is such a great feeling around the club and the environment created by the coaches and players ensures it is a lot of fun," said Sara.
Flyers Coach Cheryl Chambers is delighted Sara has re-committed to the team, particularly after such a strong and consistent year during the Championship season.
"Sara is certainly a very important part of our team, she can consistently knock the 3, shoots the pull up and, as we saw last season, she can also get to the rack. I know she will continue to raise the bar for our team as she strives to build her game to an even higher level.
"She is such a great person around the team, and it is not surprising she is a fan favourite. Her work on and off the court displays a real professionalism that is such an important part of our culture," said Cheryl.
In 2020 Sara provided supporters with a rare insight into the Flyers playing group with her "Sayin' It with Sara" weekly program on Flyers Instagram Live and she is looking forward to once again providing supporters with access to the players through social media in 2021-22.
"I really enjoyed the casual chats with my teammates and the fantastic feedback from supporters and look forward to getting everyone involved again this year," Sara said.
Sara started her basketball career in Sunbury before joining the Melbourne Tigers junior program and has played with four teams in the WNBL, including Dandenong Rangers. The Flyers 2020 victory was Sara's second WNBL Championship, having previously won with Bendigo in 2016. From a famous basketball family, Sara celebrated the Flyers Grand Final victory in Townsville in December with her parents who travelled up for the game.
"Continuing my career with the Flyers was such an easy decision, it is all about enjoying the game and working together to be the very best we can, individually and as a team. We have the best coaches and such a wonderful support staff, plus a fantastic supporter base. I am really looking forward to the new season.," Sara added.
Register your details now and be the first to know the latest news from your Flyers – click here.