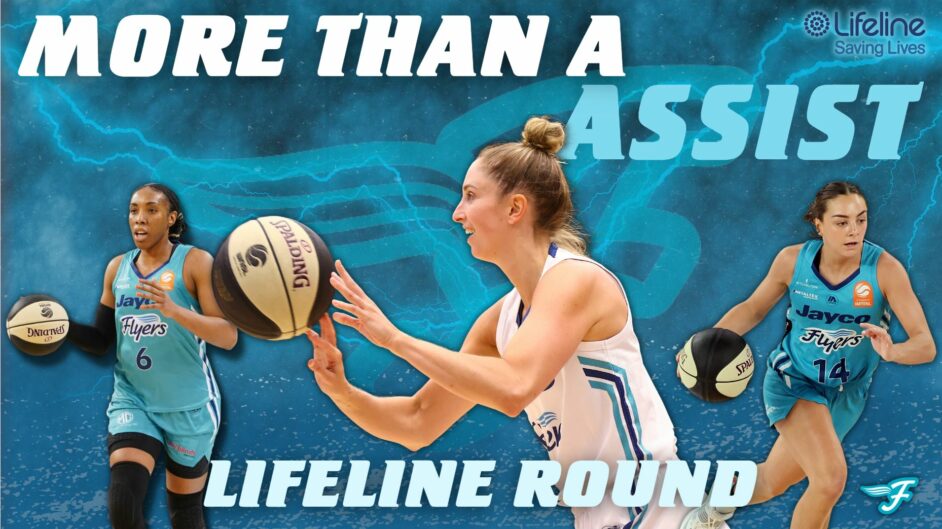 March 1, 2023 | Southside Flyers news
Flyers working for each other and the community
The Flyers are back home at the State Basketball Centre on Saturday night for our Lifeline Game, an important fundraising and awareness campaign to support Lifeline Australia via the Flyers Assist Program.
One Assist = $100
In keeping with the assist theme, the Flyers will donate $100 for every assist made in Saturday's top of the table game against Townsville to shine a spotlight on mental health. Supporters are invited to make donations through the Southside Flyers Lifeline page – Click Here to donate.
This is the fourth season the Flyers will have a dedicated Lifeline game which was the initiative of the Flyers inaugural captain, Jenna O'Hea in 2019.
After the suicide of her beloved Uncle Ferg in 2018, O'Hea wanted to help those living with mental health conditions and raise awareness of the importance of talking about mental health. From this Jenna became an Ambassador for Lifeline and the first WNBL Lifeline round was introduced in 2019.
The Flyers players, coaches and staff were quick to provide the additional support to Jenna and while Jenna has retired from the WNBL, the Flyers hold this cause very close to their hearts and continue to support Lifeline every season.
Flyers captain, Aimie Rocci explained the importance of the Lifeline Round to the Flyers.
"Jenna was an inspirational leader for us, and when we were aware of what she and her family had been through, we were very keen to provide whatever support we could and to learn more about mental health and the issues facing the community.
"The Lifeline game is now part of the Flyers program; it honours our former captain while helping the community. We want to continue to raise funds and create awareness of the life-changing work of Lifeline and drive support for their fundraising efforts."
The Flyers invite everyone to donate and be part of the Flyers Assist Program to support Lifeline.
Click Here to Donate to Lifeline and be part of the Flyers Assist Program
Lifeline provides free, 24-hour telephone crisis support and a person in Australia reaches out to Lifeline for help every 30 seconds. Nine Australians die every day by suicide which is the leading cause of death for Australians between the ages of 15 and 44.
"The statistics are overwhelming and hopefully the more we talk about it, the more people will reach out for help and Lifeline is there to help people, to ensure no-one is alone," added Aimie.
In 2022 the Flyers, with the support of other WNBL Clubs, sponsors and supporters, raised $20,000 for Lifeline.
Together we can support Lifeline to make a real difference to ensure that no person in Australia has to face their darkest moments alone.
 If you or anyone you know needs help: contact Lifeline on 13 11 14
Visit the About Lifeline page for more information on Lifeline.