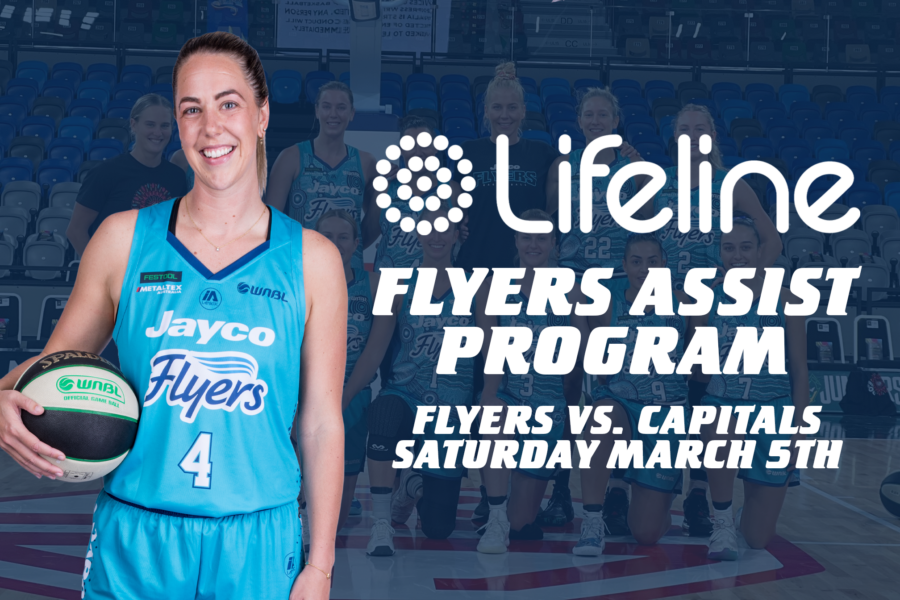 March 4, 2022 | Southside Flyers news
Most important assists for the Flyers this Saturday night will be for Lifeline.
The Flyers are back home at Dandenong Stadium on Saturday night for our Lifeline Game, an important fundraising and awareness campaign to support Lifeline Australia via the Flyers Assist Program.
One Assist = $100
In keeping with the assist theme, the Flyers will donate $100 for every assist made in the game against Canberra on Saturday night to shine a spotlight on mental health. This is the third season the Flyers will have a dedicated Lifeline game which was the initiative of our inspirations captain, Jenna O'Hea in 2019.
Jenna is an ambassador for Lifeline and the Flyers coaches, players and staff hold this cause very close to their hearts.
"We want to raise funds and create awareness of the life-changing work of Lifeline and drive support for their fundraising efforts. We know it has been a very tough time for everyone over the last two years and Lifeline continue to receive a call for help every 30-seconds.
"A big thank to the Melbourne Boomers who will be matching our pledge and we hope people and organisations get behind our Flyers Support Program to provide much needed support to Lifeline," said Aimie Rocci, who is leading the campaign for the Flyers in 2022.
The Flyers connection with Lifeline has only increased in recent times with Jenna O'Hea having to take time away from the team and the Opals to take care of her own mental health.
In an article by Megan Hustwaite in the Herald Sun earlier this week, Jenna opened up about her struggles.
"Those close to me know I've been struggling since the Olympics, and it continues to be a work in progress. It's not easy to admit that you're not OK, which is why this round is so important.
 "I've always been the strong one, the resilient one, but the strongest thing I've done is admit I need help.
 "I'm around my teammates again and you may see me laughing and playing again, but I'm battling every day. I have good days, I have bad days, I have good hours I have bad hours," Jenna said in the interview.
In positive news for Jenna and the Flyers, and indeed for basketball fans, Jenna was back in action for the Flyers in the two games in Hobart and while there are no guarantees at this time, we hope she is on court for the remaining games of the season.
"Be kind to others and most importantly be kind to yourself," Jenna said when answering people who had responded to the Herald Sun article.
The Flyers Assist Program has even greater meaning this Saturday and we hope everyone supports the program and the vital work being done by Lifeline.
Everyone is invited to donate and be part of the Flyers Assist Program to support Lifeline.
Click Here to donate.
Remember your support can ensure that no one faces their darkest moments alone.