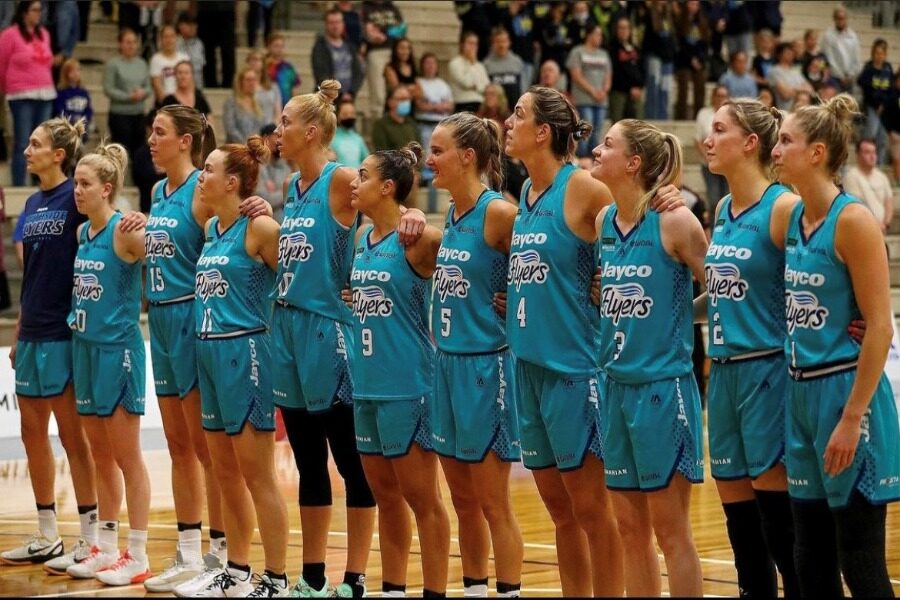 January 11, 2022 | Southside Flyers news
Flyers Back in action for 2022 in Mental Health Round
After a couple of 'false starts' the Flyers are back in action on Wednesday night, January 12, against Perth Lynx in Ballarat.
Thanks to the COVID pandemic that is impacting the community, Wednesday night's game will be the Flyers first game for 2022 after scheduled games against Perth and Adelaide were postponed.
While the original season schedule had the Flyers playing Sydney in Ballarat on Wednesday night, the forced changes to the fixture will see the Flyers playing Perth in a game that was originally to be played on Thursday January 6.
"We are excited to be back playing and really looking forward to tomorrow night's game against Perth," Flyers Coach Cheryl Chambers said from Ballarat this evening.
"It is a very special game, not just because we are finally back playing, importantly this is part of the WNBL matches being played in regional Victoria as part of the festival of women's basketball during January. We are proud to be part of this festival and look forward to this being a great success for the game and for Ballarat and regional Victoria," Cheryl added.
"Of further significance is the game is part of our annual Mental Health Round and this is something very close to our team, particularly our captain, Jenna, and in these current times it is even more meaningful," said Cheryl.
Round 7 of the WNBL season is the annual Mental Health Round and this year it is the "Reach Out Round".
Reach Out Round aims to shine a light on mental health and encourage people to reach out in times of need. It also serves as a friendly reminder to check in regularly with your loved ones. It's okay to not be okay and it's okay to reach out for help.
Jenna O'Hea, the Flyers inspirational captain, was the instigator of the WNBL Mental Health Round, the introduction of a special round that focuses on mental health support in the community. What started as a one-off Flyers game is now an entire round of the WNBL season and an important part of the community support through the game.
Reach Out Round is supporting:
Lifeline: Every call and text answered is another life saved. Support can ensure that no one faces their darkest moments alone."
Kids Helpline: Connecting kids across the country with professionals and specialised counsellors, no matter who they are, where they live or what they want to talk about.
ReachOut: Providing self-help information, peer-support program and referral tools supporting younger people.
Beyond Blue: Helping to reduce the impact of depression, anxiety and suicide by supporting people to protect their mental health.
headspace Ballarat: A vision that all young Australians are supported to be mentally healthy and engaged in their communities.
Flyers Back in Action
Flyers v Lynx
Wednesday January 12
6:30pm
Selkirk Stadium in Ballarat.