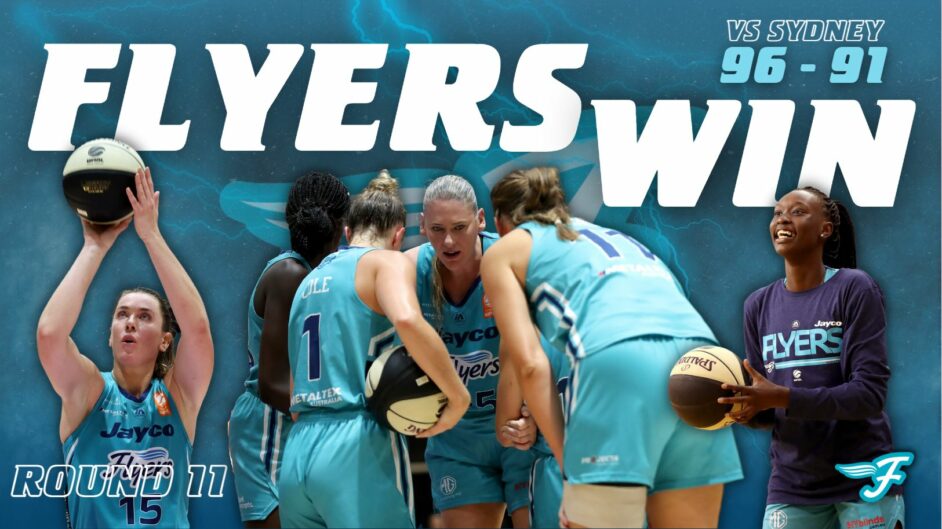 January 19, 2023 | Southside Flyers news
The Flyers have bounced back after last week's loss and sit in second place on the ladder, having won five of their last six games after their 96-91 win in Sydney against the Flames.
The GOAT Lauren Jackson led from the front with an efficient 30 points on 61 percent shooting, while Maddy Rocci helped with 18 point and seven assists, and Kayla Thornton provided 16 points and eight rebounds to secure the victory.
The Flames, who sit seventh on the ladder but have shown recent improvements, had late withdrawals from both coach Shane Heal and daughter Shyla Heal, but managed to make it a competitive encounter all night.
The margin at the end of each quarter was never above six points, and the Flyers had to come back from behind after starting the fourth down by 76-80, ultimately claiming the victory by outscoring the Flames 14-6 through the final 6.47 of the game – with 11 of those coming from the foul line.
Young gun Nyadiew Puoch put any chances of a late surge by icing the game with two big blocks at the end of the game, and played an important role all night with over 24 minutes game time.
BLOCK PARTY IN SYDNEY 🔥🔥🔥

Nyadiew helping to secure the win with some PIVOTAL plays in the last seconds of the game !!! 😤#SoarWithUs pic.twitter.com/IwOj7P7MGu

— Southside Flyers (@SouthsideFlyers) January 18, 2023
The Flyers are continuing to look like one of the powerhouse teams in the league, and will try to continue their dominant run in their upcoming away games against the UC Capitals and Adelaide Lightning.
Following those, comes a historic game in a rematch against the Flames, when Southside host them at the first ever WNBL game to be played at John Cain Arena on Saturday February 4.
Click Here to purchase tickets and become part of sporting history.