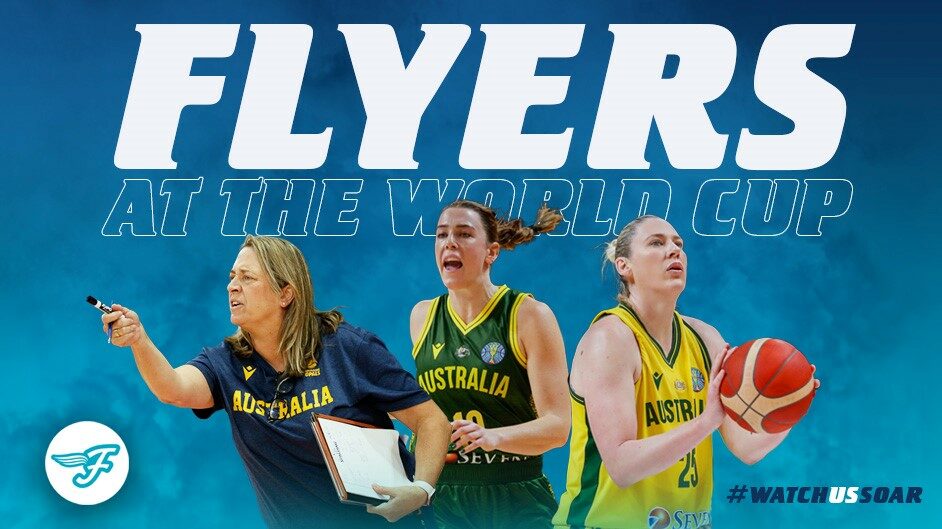 September 29, 2022 | Southside Flyers news
The Flyers part of the Opals run to the Semi-Finals
The excitement of watching the Opals progress to the semi-finals at the FIBA World Cup adds to the anticipation for the upcoming WNBL season. And with three Flyers involved with the Opals, the 2022/23 WNBL season promises to be an exciting one for Southside Flyers.
Lauren Jackson and Sara Blicavs are helping to make things happen on the court while Flyers coach, Cheryl Chambers, is helping to create the play in her role as an Assistant Coach with the Opals.
Become a Flyers Member
Basketball experts have praised the Opals during the World Cup, not just for the results, but for reclaiming their respected culture and bringing back the credibility that had long been part of our national team. And the Flyers 'new recruit' Lauren Jackson has played a major role in this.
Basketball legend Michele Timms credits the return of Australia's greatest player for helping the Opals back to credibility. Citing Jackson's selflessness that has had a flow on effect on the entire team.
"Lauren has also been outstanding on the court, and she is happier to do whatever it takes," Timms said following Australia's victory over Japan to clinch top spot in their group.
While Cheryl and the two players have been busy with the Opals, it has been training as usual for the rest of the Flyers team as they prepare for the opening round on Saturday November 5.
The full squad is almost complete, with the official announcements of another key player and the development players to be made following the World Cup.
Members of the Flyers have access to the best seats available at the State Basketball Centre, with all members having their very own reserved seat for the season.
History is set to be made this season with the return of Lauren Jackson to the WNBL, and a Flyers membership will ensure you are part of basketball history.
Become a member today for your choice of the very best seat available.