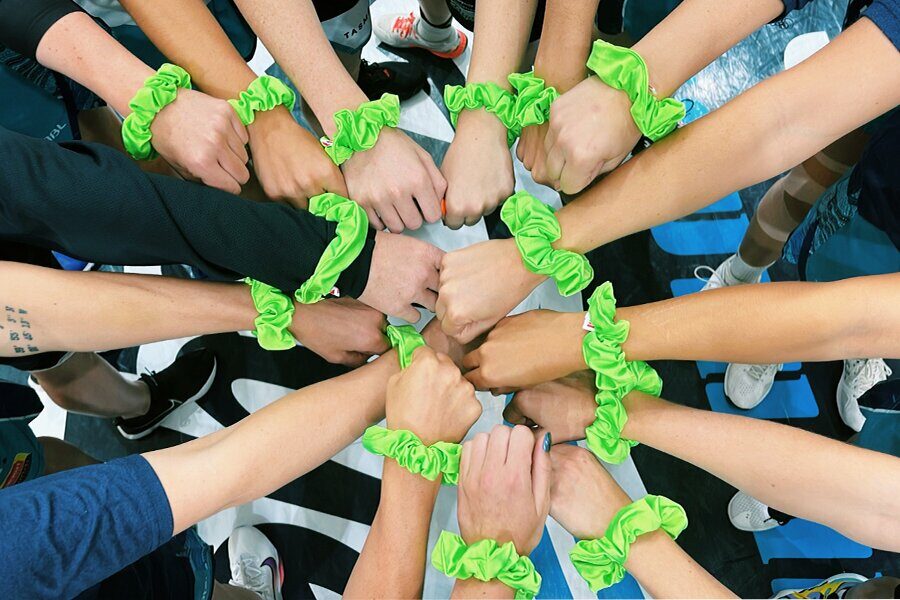 March 18, 2022 | Southside Flyers news
In their final game of the season, the players will wear lime scrunchies in their hair to help raise awareness for Lymphoma Australia.
Southside Flyers is committed to working with the community and supporting individual players in their work with community groups. This Saturday the team is taking the opportunity to support Bec Cole's role as an Ambassador for Lymphoma Australia, to raise awareness of Lymphoma Australia, as part the Flyers ongoing community support programs.
"It is great to have the team support my ambassador role and hopefully we can ensure people are aware of the incredibly important work Lymphoma Australia does," Bec said at training this week.
And more than just raise awareness, the team will be donating $30 for every rebound they grab during the final game of the season.
As part of her work with the organisation, Bec assisted with the recent 'Legs out for Lymphoma' campaign, and is still fundraising through the link below, and will be heavily involved putting "Lymphoma in the Limelight" during the annual Lymphoma month in September.
This Ambassador role is close to Bec's heart as she has personally felt the effects of the disease through her father Gary's journey. The Flyers family knows how close the Cole family is.
Through her first-hand experience, Bec considers the support of Lymphoma Australia crucial to the well-being of patients and their families.
"After the shock of the diagnosis, having someone there who can help educate you about the disease and how to help makes all the difference.  It's comforting to know you're not alone, and it gives us all confidence in knowing there are options when it comes to fighting this cancer," Bec said when she became an ambassador.
Lymphoma and the work of Lymphoma Australia
Lymphoma is the number one cancer for people aged 15-29 years and third most common in children. It can affect anyone at any age and 7,000 Australian's are diagnosed with lymphoma each year.
Being diagnosed with cancer is frightening and something any person would prefer not to face. Lymphoma Australia provides free lymphoma information, education and support to patients and their families, all over Australia.  Lymphoma Care Nurses provide invaluable support and care to patients living with lymphoma.
Lymphoma Australia is the only not for profit charity in Australia dedicated to patients with lymphoma, the sixth most common cancer. Their objective is to ensure no one faces lymphoma alone.
Click Here to support Bec and the Flyers fundraising campaign for Lymphoma Australia.
For more information go to lymphoma.org.au