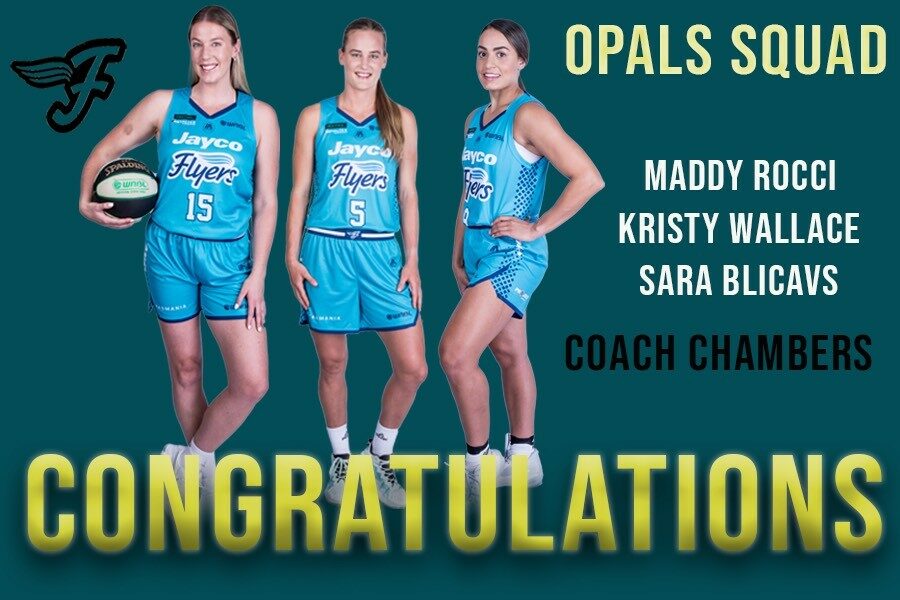 February 4, 2022 | Southside Flyers news
Four Flyers part of the Opals World Cup Qualifying Team
Basketball Australia today announced the 12 players who will head to Serbia later tonight to represent the Opals in the FIBA Women's World Cup Qualifying Tournament matches next week.
Flyers will be well represented by Sara Blicavs, Maddison Rocci & Kristy Wallace. Cheryl Chambers is the assistant coach for the team bringing the total of Flyers members to four.
Flyers fans can be very proud of these athletes, as they can with those who were part of the original squad of 16 at this week's training camp in Sydney.
Wallace was originally left off the squad of 16 but due to an unfortunate injury and subsequent withdrawal of Abby Bishop, Wallace received a late call-up to the squad and made the most of her opportunity. It will not surprise Flyers fans to know she has made the team as we have seen her hustle and know of her perseverance.   Wallace has been electric off the bench for Southside this season and stepping into the starting line-up whenever needed.
The Flyers players have been at Opals camp this week after a comeback win on Saturday against the Sydney Uni Flames and fellow Opals team member, Shyla Heal.
Sara Blicavs stared in the game, recording a double double and the late go ahead three to put the Flyers in a winning position. Maddison Rocci played her point guard role well all game finishing with 5 assists, 4 rebounds and 3 steals. Rocci took a late blow at the end of the game but recovered to show her skills at camp this week, landing her the point guard role on the Opals squad.
While she is an Assistant Coach with the Opals, Cheryl Chamber had her Flyers Senior Coach 'hat on' when speaking about the achievements of the three players.
"It is a fantastic reward for the girls, and we couldn't be prouder of them. Sara has had an interrupted season but has certainly shown great form in recent games and admitted she grew from her experience with the Opals at the Tokyo Olympics.
"For Maddy and Kristy it is a huge step in their careers. Two young players who joined the Flyers this season and have been great on and off the court.  It is particularly exciting for Kristy who has had to overcome serious injuries in recent years and was a late call-up to the squad," Cheryl said.
The team will play in the World Cup Qualifying Tournament between February 10 and 13 with the Opals in Group A with Serbia, Brazil and South Korea. We wish them all the best and can't wait to watch them on court together.