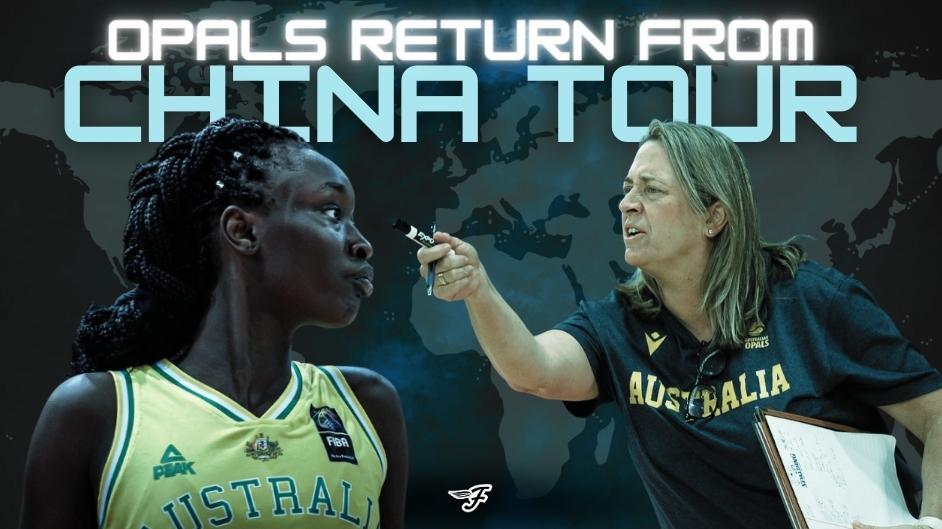 September 6, 2023 | Southside Flyers news
The Opals' recent trip to China for a friendly series of five games included some key Flyers personnel. Coach Cheryl Chambers was at the helm of the international side, and young gun Nyadiew Pouch experienced more international play after representing the Gems in last month's FIBA Under-19 World Cup.
Although the Opals only managed to win one game, Cheryl said the series was a great chance to get a gauge of the squad's depth heading into the Olympics in 2024.
"It was actually great because we both had a few missing from our teams, especially us, so we were able to take a whole lot of young kids and give them some experience against an international team," she said.
Nyadiew Pouch, who emerged last year as a young gun of the league and was a vital spark off the bench in the Flyers' finals run, continued her off-season grind with the Opals. She hasn't let up all winter, being called to play in both the Nike Hoop Summit U-19 all-star game and with the Gems last month.
Coach Cheryl said Nyadiew gained valuable experience in the Australian side, which she will use for the years to come.
"Any time you play international you learn a lot about different types of gameplay, so she learned a lot about what to add to her game and she showed that she belongs there," she said.
"She'll definitely bring a lot of confidence out of it and also probably knows some things that she could probably work on and be better at."
With two important pieces to the Flyers cog now back in Australia, they are ready to launch into the first training of the season at the end of September, with big plans on going one step further.
"We want to not just make a grand final, we want to win one this year," Cheryl said.
"We put a group together that brings us size and the versatility to get out front. So we'll be working on both of those things. A two tempo game where we can push the ball and slow it down when we need to, to take advantage of some height as well."
The new-look Flyers kick off their season in a Melbourne Derby home game home against the Boomers, at the State Basketball Centre, on Saturday November 4.
Flyers Membership for the 2023/24 WNBL season is now on sale!