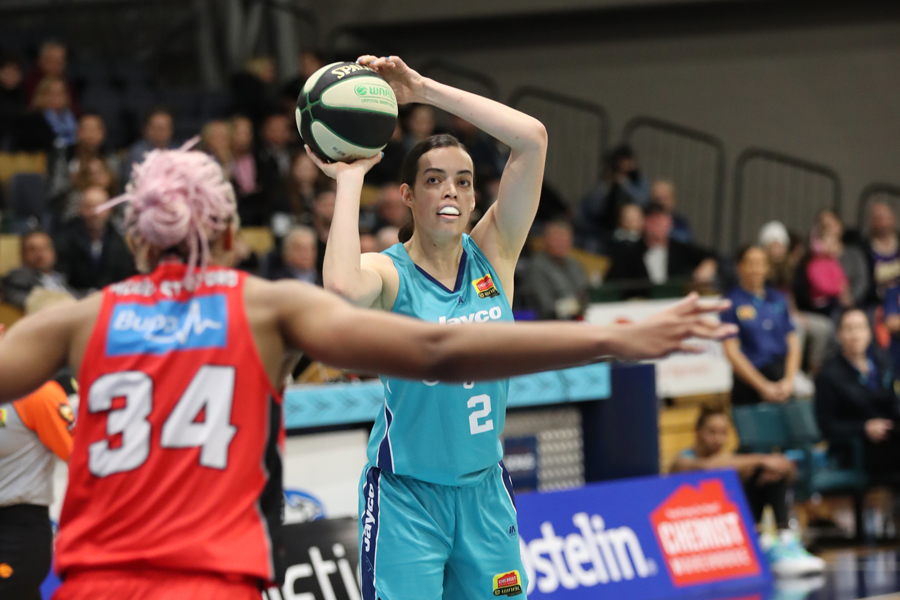 November 28, 2019 | Southside Flyers news
The Southside Flyers are soaring away from home in Round 7 as part of their two-game west coast-loop roadtrip, taking on the Perth Lynx tomorrow followed by a clash with the Adelaide Lightning on Sunday.
That Sunday clash will mark the first time the Flyers & Lightning have battled each other in #WNBL20, while our game against Perth will be a rematch of the Flyers 97-93 Round 2 victory.
Both opposition teams will be hungry for victory after losing games in the previous round, each stumbling in the past few weeks after coming out of the blocks strong.
BECOME A FLYERS MEMBER TODAY – THREE-GAME OPTION AVAILABLE NOW 
The Lynx suffered their biggest stumble of the season last Sunday against Canberra as they struggled to get anything going in an 84-66 road beatdown.  This was in stark contrast to their impressive 91-82 defeat of Sydney Uni earlier in the round, perhaps putting the loss to Canberra down to fatigue.
But the Lynx will have to find a strong source of energy if they're to defeat our Flyers tomorrow night, another loss will mark their fourth in six outings. The Round 2 matchup between the two teams was a high-energy and high scoring thriller that went to OT and we expect much of the same at the Bendat Basketball Stadium.
NEXT FLYERS HOME GAME – FLYERS VS. BOOMERS – GET YOUR TICKETS NOW
We're not sure exactly what to expect in the Flyers next clash of Round 7, as we head to Titanium Security Arena on Sunday to take on the Adelaide Lightning for the first time! The Lightning currently sit in the WNBL's top four but have two losses against the other two teams above them: a road defeat in Canberra in Round 1 and last week's home loss to the Boomers.
They will debut a new import after WNBA star Crystal Langhorne went down with a knee injury, some big shoes for any player to fill. But Kathryn Westbeld appears to be up to the task, as she comes direct from winning Puerto Rican club championship and the 2018 NCAA Division I championship with Notre Dame.
Stifling the influence of Westbeld and her Notre Dame teammate Brianna Turner will likely be the key to a Flyers victory in this game, along with maintaining our own high-octane offense. In all Southside victories we've averaged a superb 87.5 points per game. If we can cross that 80-point mark again on Sunday we should be able to weather the Lightning's storm and take the W.
Two big games, two tough opponents and one tough test for our Southside stars! But we're expecting them to pass with flying colours….let's GO Flyers!
NEXT SOUTHSIDE FLYERS HOME GAME
When: Saturday 7 December @ 7:00pm
Tickets: Now available via Tixstar
Doors Open: 6:00pm
Where: Dandenong Stadium, 270 Stud Rd, Dandenong North