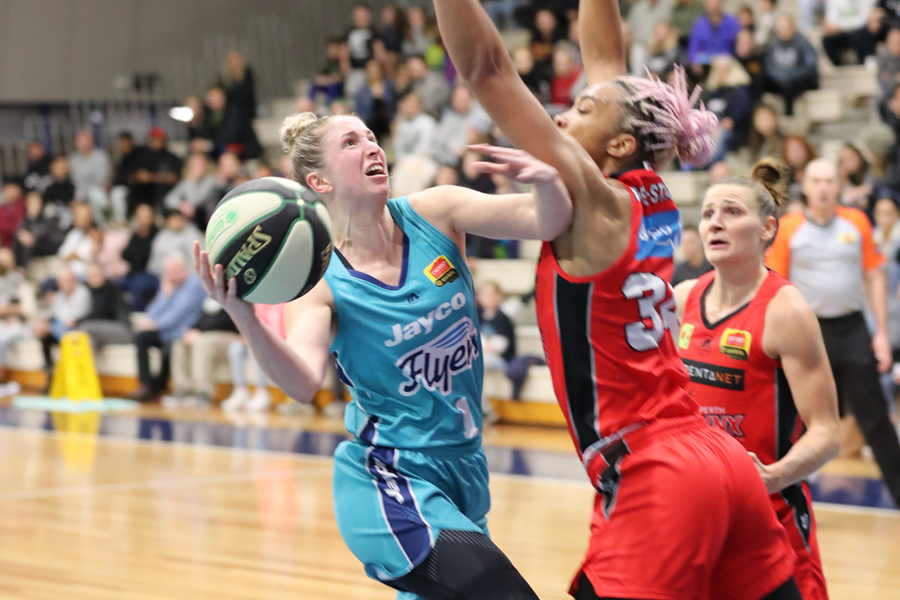 October 21, 2019 | Southside Flyers news
SOUTHSIDE FLYERS VS. PERTH LYNX RECAP
It was a strong team effort from Southside as it rode the home crowd's support to a second straight victory, defeating the Perth Lynx 97 – 93 in overtime.
The Flyers had six players score in double figures, showcasing their multiple shooting threats and a versatile offense. O'Hea led the team with 19 points while Russell had 18 of her own to go along with 15 boards.
After the two sides couldn't be separated at the end of regulation, the game went into overtime where the Flyers, with the crowd behind them, managed to force multiple turnovers and execute offensively to finish four points ahead of the Lynx.
JOIN THE FLYERS FAMILY WITH A WNBL20 MEMBERSHIP TODAY
For the Lynx, Schwagmeyer had 34 points and was unstoppable for much of the game, attacking the rim and hitting threes. But it wasn't enough and despite some lapses defensively throughout the night, Southside got stops when it counted most.
Perth Coach Andy Stewart said the Flyers flexibility and depth made for a tough match-up and a lapse in concentration early cost his side the game.
"I think we lost the game in the first two minutes…we turned the ball over so soft and it meant we played from behind all night," Stewart said. "We looked confused the first few minutes."
"It's tough because you've got Jenna O'Hea who last year was running the point and now she's running the four-spot.
"Who do you put on Sara (Blicavs), she's very mobile and then with all the varied skills of Jenna O'Hea, it's unique."
The Flyers were strong out of the gate and went into quarter time with a six point lead before Perth fought back in the second behind strong defence from Stafford and tied it up by halftime at 42 apiece.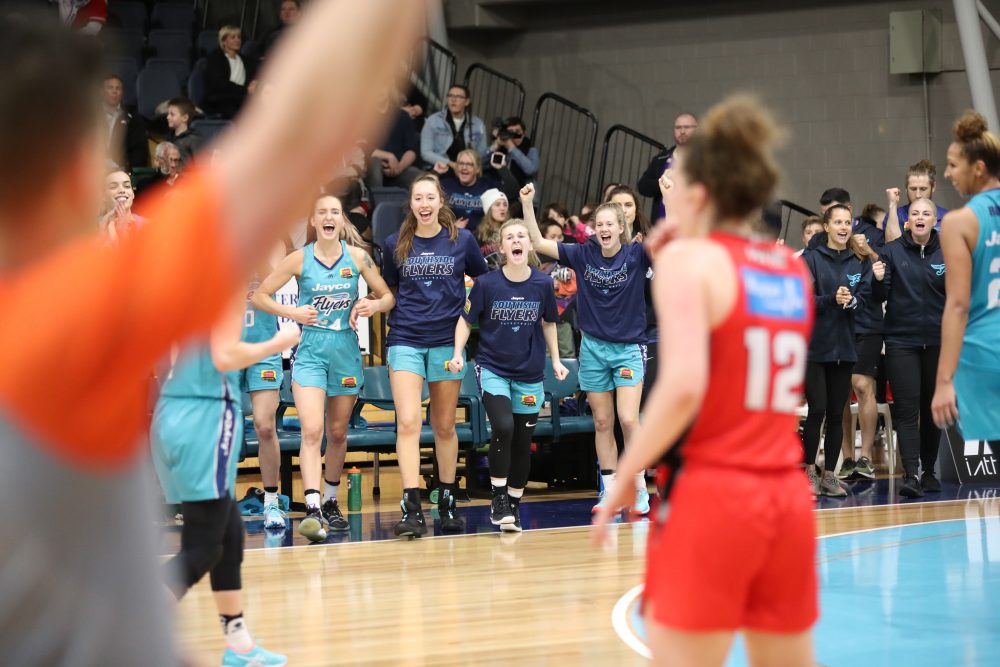 The second half began at a frenetic pace and the Flyers were able to create a small four point buffer at the final break.
Things went up a gear in the fourth and Perth managed to steal the lead and at times threatened to pull away from the Flyers. Fortunately, courtesy of some great passing from Mitchell the Flyers were able to stay in touch.
Clydesdale was huge down the stretch, hitting some big shots but none bigger than a long 3-pointer off a broken play to give the Flyers a two-point advantage with only 20 seconds remaining.
McGee-Stafford kept the Lynx alive, tying it up with ten seconds remaining and after a miss down the other end from Southside, overtime would be the decider.
SOUTHSIDE HEADS TO TRARALGON NEXT WEEK – GET YOUR TICKETS HERE
"I said to Aimie last week I think that she'd probably start in a lot of teams,"
"But really it's not about who starts, it's about who finishes and she (Clydesdale) was just super."
Overtime was when the Flyers depth and defence proved to be the difference, forcing turnovers and hitting shots from a myriad of different avenues, including threes, drives and off the fast-break.
The victory was sealed with a three-point play on the buzzer, giving the Lynx their first loss of the season and keeping the Flyers record perfect at 2 – 0 prior to Saturday's clash with the Sydney Uni Flames.
SOUTHSIDE FLYERS VS. SYDNEY UNI RECAP
Southside flew to the harbour city for the second leg of their Round 2 weekend and departed with a gritty victory over the Flames.
While they stumbled out of the starting blocks our Flyers managed to find their shooting touch in the second quarter, opening up a solid lead that they would never give up to Sydney.
O'Hea (22 points, six rebounds and six assists) led from the front with another captain's performance, Mitchell (14 points, 10 assists and six rebounds) was outstanding while import Russell (15 points, 11 rebounds) has settled into her new team and league perfectly.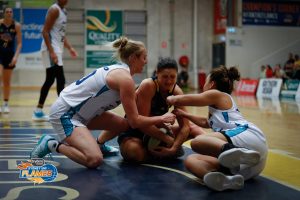 We now sit at a perfect 3-0 record to kick off WNBL20, sitting on top of the WNBL's ladder and ready to add to that victory total with this week's clash with Bendigo.
That clash will be played at the Traralgon Sports Stadium as we bring WNBL action to the Gippsland region that has been such a hot bed for WNBL talent over the years. Captain and Traralgonite Jenna O'Hea will no doubt be pumped up to play in front of her hometown fans and will be ready to put on a show for everyone in attendance.
We'll see you there Flyers Family!
WNBL IN GIPPSLAND – SOUTHSIDE FLYERS VS. BENDIGO SPIRIT
When: Saturday 26 Oct @ 5:00pm
Tickets: Now available via Tixstar
Doors Open: 4:00pm
Where: Traralgon Sports Stadium – Catterick Cres, Traralgon VIC 3844