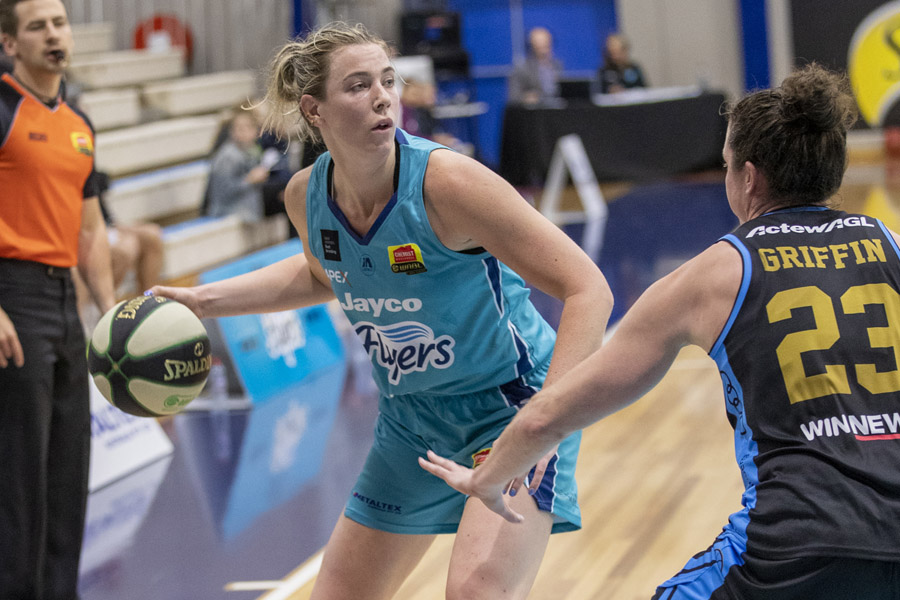 November 8, 2019 | Southside Flyers news
The Flyers fantastic unbeaten run finally came to an end last night at Dandenong Stadium as the UC Capitals re-established themselves as the team to beat in 2019-20.
The defending champs have started slowly in WNBL20 but they came out firing against our Southside Flyers yesterday in an 11-0 run after tipoff, holding a lead they would never relinquish in a superb team performance.
JOIN THE FLYERS FAMILY WITH A WNBL20 MEMBERSHIP TODAY
After that run the Flyers didn't go immediately run to panic stations and collapse, instead fighting valiantly throughout a tough contest. But the long-limbed defenders for the Capitals pressured the Flyers ball movement all night and forced us into 20 turnovers that proved to be a deciding factor in the Southside defeat.
Head Coach Cheryl Chambers conceded that while the loss 'wasn't the end of the world' it was nonetheless a disappointing result that the Flyers will look to learn from going forward.
"We didn't come out with the composure and physicality that we had been displaying early in the season", said Chambers. "The first half it seemed like we couldn't get a rebound and then when we tried together as a team we would bump the other out of the way."
That lack of focus and composure could be put down to last night's contest being the Flyers third game in five days, a busy slate prior to the FIBA Qualifiers Window break next week.
But Coach Chambers was hesitant to use that as an explanation for the loss, praising the Capitals for their superb play throughout their 91-72 victory.
"Look, I don't think it's (three games in five days) an excuse, Canberra are a quality team…I think mentally it will teach us a lot about how to switch on.
"It is a big ask to go from a gameplan of Bendigo to Melbourne to Canberra, they're three different gameplans so mentally there's a lot to learn. But full credit to Canberra, they're a great team."
NEXT FLYERS HOME GAME – FLYERS VS. BOOMERS – GET YOUR TICKETS NOW
If Flyers fans ignored the final score and the teams turnovers you might think this one was a lot closer, with our Southside stars shooting a healthy 47% from the field and converting 20-23 free throws.
But a large part of the game was lost on the games rebounding battle, something Flyers star Rebecca Cole stated that the team will be looking to fix before they're next clash with the defending champs.
"As Cheryl said at the start of the game to us, they won the championship last year so they know how to come out and play right away", said Cole. "They used their smarts and their hustle today, besides Kia Nurse's open threes they didn't blow us away offensively. It was more their posting up and offensive rebounding that hurt us today.
"But we'll learn so much from this game, we've got two weeks to knuckle down and study our opponents so the next time we play them we'll get the win."
After the completion of the rest of WNBL Round 4 the league will collectively take a week off, allowing the Opals to compete in the Pre-Olympic Qualifying Tournament. We'll then return to action on the road for two consecutive rounds to compete in Townsville, Perth and Adelaide, followed by a Round 8 blockbuster clash with the Melbourne Boomers on Saturday December 7th.
That's right Flyers fans, we're taking on the Melbourne Boomers for the first time at Dandenong Stadium next month! Only one more month to go til the biggest game of the WNBL season, we can't wait!!
SOUTHSIDE FLYERS VS. MELBOURNE BOOMERS
When: Saturday 7 December @ 7:00pm
Tickets: Now available via Tixstar
Doors Open: 6:00pm
Where: Dandenong Stadium, 270 Stud Rd, Dandenong North