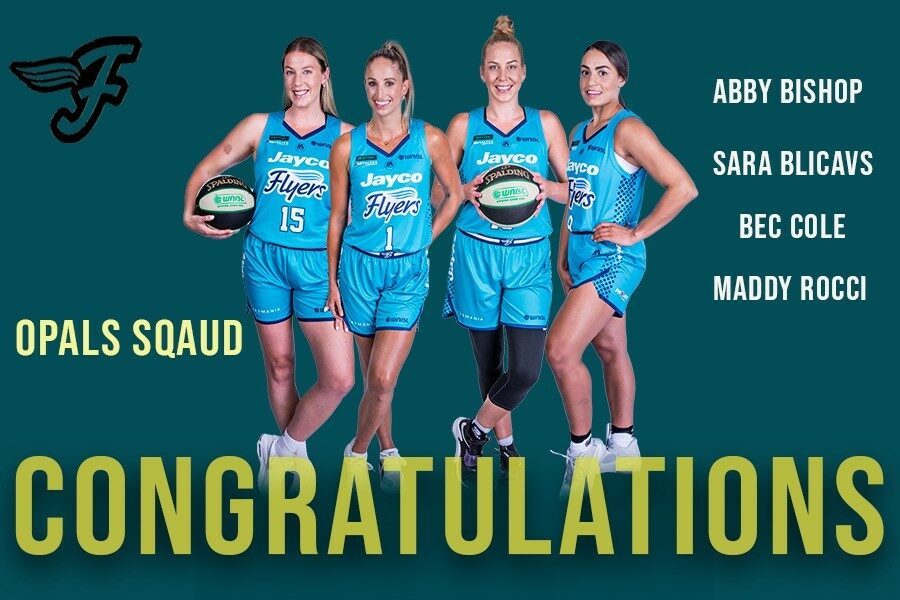 January 18, 2022 | Southside Flyers news
Four Flyers in Opals World Cup Squad
Four of our very own Flyers stars are part of the 16-person Opals squad that will head to the training camp in Sydney from 31 January – 4 February in preparation for the FIBA Women's World Cup Qualifying Tournament in Serbia.
Sara Blicavs, Abby Bishop, Rebecca Cole, and Maddison Rocci were named in the squad that was announced by Basketball Australia today.
The announcement is deserving for all four players, who have been standouts in the Flyers games this season.
Abby Bishop recorded her third double/double on the weekend and played a full 40 minutes for the Southside team in the absence of O'Hea and Blicavs. It is an incredible achievement for Bishop, who was part of the Opals bronze medal winning team at the 2012 Olympics and returns to the Opals squad for the first time since 2019 on the back of outstanding form on her return to the WNBL this season.
Rocci, in her first season with the Flyers, has transitioned well into the team averaging 9 points and four assists per game while commanding the floor in her point guard role. Alongside Rocci, Bec Cole has been averaging 18 points for the Flyers and currently sits second for most points scored this season in the WNBL.
Unfortunately, due to injury and COVID protocols, Sara Blicavs has only been able to suit up three times so far this season, but she has been impactful in all three. In the Flyers opener, she scored 27 points and notched nine rebounds in the Flyers win.
Inspirational Flyers captain, Jenna O'Hea who captained the Opals at the Tokyo Olympics, has withdrawn from the Opals squad due to mental health issues.
Adding to the Flyers look for the squad is head coach Cheryl Chambers who will continue in her role as an Assistant Coach to Opals Head Coach Sandy Brondello.
Following the training camp, the final 12 athletes will be chosen for the World Cup Qualifying Tournament to be played between February 10 and 13. The Opals are in Group A and will play Serbia, Brazil, and South Korea.
Australia, as the host nation, and the USA, Gold Medallists at the Tokyo Olympics, have both already qualified for the FIBA World Cup to be held in Sydney in September.