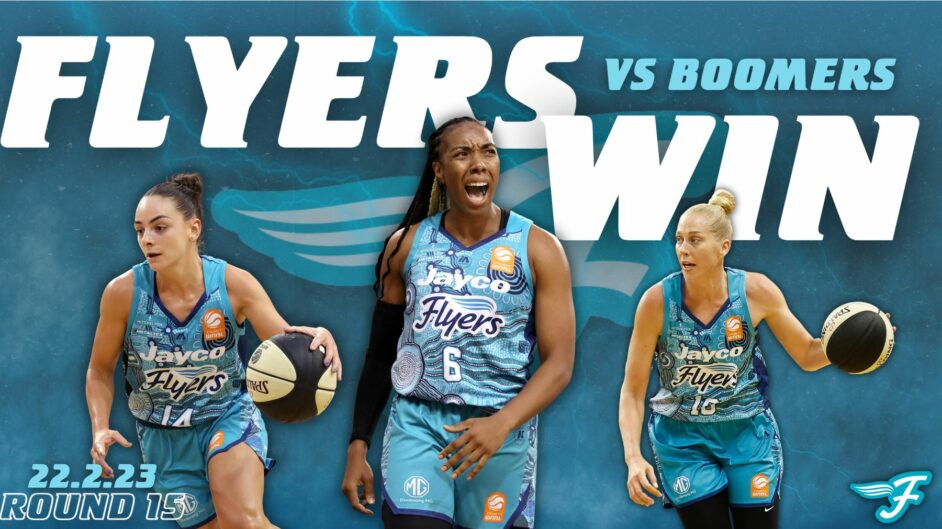 February 23, 2023 | Southside Flyers news
The Flyers have officially won the battle for Melbourne, sweeping the Boomers in the season series following their dominant 81-67 win in the third Michele Timms cup game on Wednesday night.
Abby Bishop was the MVP of the game, putting up 11 points, 12 rebounds, two blocks and two steals in another full team contribution from the Flyers. Kayla 'Special K' Thornton also had her way with 20 points and nine rebounds, while Sarah Blicavs (13 points and 10 rebounds), Bec Cole (nine points and eight assists) and Nyadiew 'Block Doctor' Puoch (4 blocks in the second half) all played critical roles.
The Boomers played a very tall line-up, but it wasn't enough to counter the unselfish play of the Flyers, who posted 24 assists to the Boomers 16. This 'looking for the open player' type of basketball has been serving the Flyers as they find a another gear with one game to play before finals.
"Everybody contributed, everybody came in really focused and that's how we were able to get a win like that against a really solid opposition," said Abby Bishop.
This is the Flyers third win in a row against potential finals opponents.
"I think we're starting to peak at the right time. Obviously, backend of the season, we lost LJ (Lauren Jackson), so it took us a game to kind of find ourselves but we've find ourselves now and we want to keep that momentum going into finals, it's very important," said Abby.
"To be able to know that you've been playing really good basketball gives you confidence and that's what we want. I think when players are confident, they're playing good basketball and when we're confident as a team, we're hard to stop."
The Flyers currently sit second on the ladder while the Boomers sit third, which means they could be facing off in the first finals series. If both teams finish with equal records, the Flyers have locked up home court advantage, where their current record is 7-2 at the State Basketball Centre.
"I think to us, what's important is to have the split on them so if we're equal on the ladder, we will go ahead of them because of that, so that's super important," Abby said.
"We know that finals basketball is a completely different ball game. They're an amazing team and they've got great individual players but on the flip side of that, so are we. So we've just got to be focused on ourselves and wait and see what happens."
But the Flyers are still eyeing off that top spot on the ladder. With only one game left to play, a lot relies on the performance of the other teams to see where every team will finish the regular season.
The Flyers don't play again until March 4th where they face the current top of the table Townsville in another finals preview game. As excitement builds for the fans, hopefully the Flyers can keep this ball rolling with another win and gain the mental battle on the rest of the league.