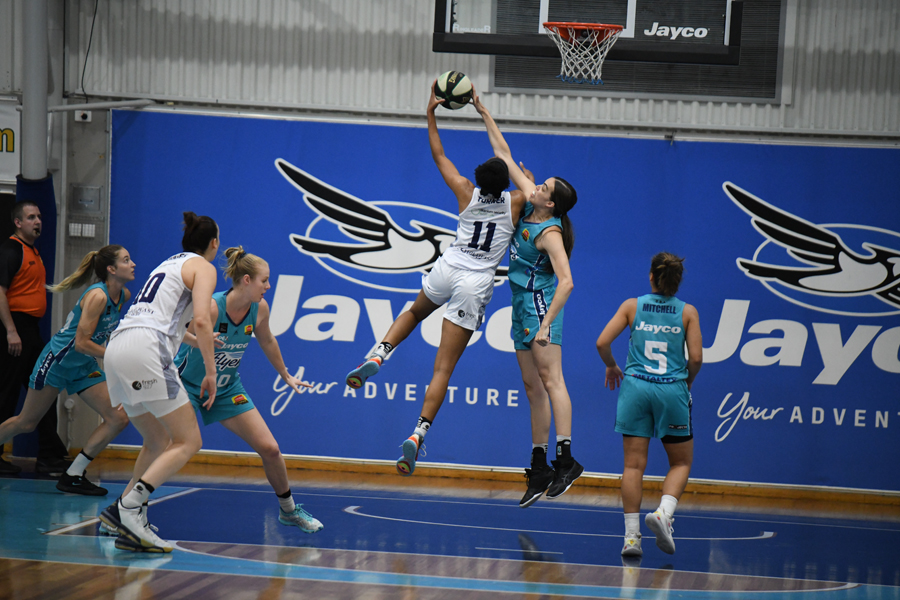 January 26, 2020 | Southside Flyers news
By Joseph Arthur
The Southside Flyers were too strong for the Adelaide Lightning on Saturday night, cruising to an 81- 69 win at Dandenong Stadium.
The victory secured the minor premiership for the Flyers, who will enter the playoffs as the number one team in the WNBL after securing a tiebreaker with the Boomers earlier in the season.
Southside bounced back at home after a disappointing loss last weekend at the hands of the UC Capitals, locking down the Lightning and finding great shots all night.
Riding the hot hand of Bec Cole, who had 20 first half points, the Flyers never let the Lightning strike.
Cole finished with 28 points, leading all scorers, while Leilani Mitchell had 23 of her own.
"[Cole's] a true gritty champion and I'm sure she'll find her feet [in the playoffs]," Southside coach Cheryl Chambers said postgame.
"She's been pretty good all year because she plays so physically."
The atmosphere for the Saturday night clash served as a teaser of the playoffs ahead, with a lively crowd set the tone in Dandenong Stadium and a match that followed suit. In what was a highly anticipated game, Adelaide was hoping to make a statement and prove its ability to contend with the best. Unfortunately for the Lightning a relentless Flyers outfit had their measure from the start.
Cole scored 13 in the first term but it was Southside's defence that set it apart. Mercedes Russell served as the defensive anchor before falling into some foul trouble. Fortunately Louella Tomlinson was up to task and stepped in for some big minutes.
"It doesn't matter how much or how little [Tomlinson] plays, she's so important to us," Chambers said."When she comes in, she's not rattled and she makes the right decisions."
By half-time Adelaide had only mustered 37 points and needed to dig itself out of a 15-point hole. But it wasn't to be and the Flyers ran away with it in the second half, never really being challenged.
With only one round left in the season, both sides have secured a playoff birth and will face each other in the WNBL Semi Final Series.
Games 1 & 3 of the series will both be played here at Dandenong Stadium, with Game 1 set for February  15th. But before that we've got one more regular season home game Flyers Family, next Saturday's clash wth the Sydney Uni Flames.
Join us next weekend as we look to thank the Flyers for a great regular season and wish them well before our first ever WNBL Finals series!
NEXT FLYERS HOME GAME
SOUTHSIDE FLYERS VS. SYDNEY UNI FLAMES
When: Saturday 1st February @ 7:00pm
Tickets: Now available via Tixstar
Doors Open: 6:00pm
Where: Dandenong Stadium, 270 Stud Rd, Dandenong North