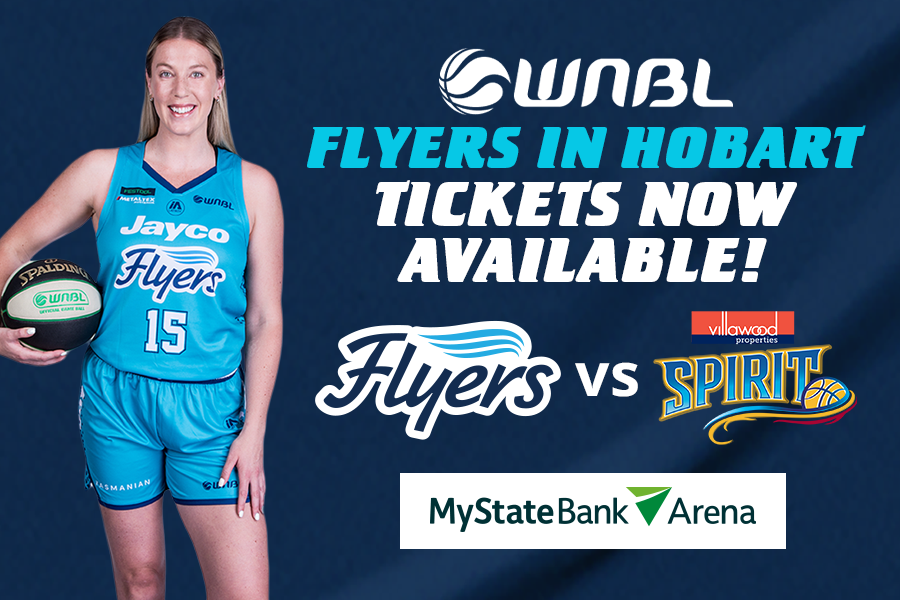 February 20, 2022 | Southside Flyers news
Southside Flyers are proud to be taking Australia's best women's basketball competition to Tasmania with games against the Bendigo Spirit in Hobart in rounds 12 and 13 of the 2021-22 WNBL season.
Tickets are now on sale, with the first game to be played this Saturday, February 26 at MyState Bank Arena in Hobart, with a 5:00pm tip off and national coverage on ABC, Fox Sports and KAYO. Tickets are just $5 for children and $10 or $15 for adults.
Click here to purchase tickets
"We have been looking forward to this opportunity and it will be great to be finally playing in Tasmania. We know Tasmanian's love the game and this fits our objective to promote basketball and women's sport in general.
"Starting with a 'home' game in Hobart is a real bonus for the team and is the perfect fit with our Southside name," said Flyers coach, Cheryl Chambers.
The Southside Flyers playing singlets and shorts feature the Tasmanian branding and it is appropriate the team gets the chance to play in the State they have been promoting all season through a partnership with the Tasmanian Government.
Flyers star, Bec Cole said all the players were excited with the opportunity to play in Tasmania and promote the sport.
"We are all looking forward to the games. It will be exciting to be taking the WNBL back to Tasmania and hopefully we will get to play in front of big crowds, starting with our 'home' game in Hobart at MyState Bank Arena.," Bec said.
The Flyers will travel to Hobart on Thursday and will be involved in junior basketball and community promotions in Hobart and in northern Tasmania to promote the game and help boost participation at all levels.
The Tasmanian visit has been made possible through the support of the Tasmanian Government, Basketball Tasmania, Launceston Tornadoes and Hobart Chargers. As well as the two games in Hobart, highlights of the visit will include both clubs' involvement with community activities and junior basketball activities in Hobart, Launceston and Devonport as part of the celebration of the game and women's sport in Tasmania.
Tickets now on sale for Game 1
Saturday February 26 at MyState Bank Arena – 5:00pm tip off
Adults – $10 and $15 and Children $5
Click here to purchase
A strictly limited number of corporate packages are also available for just $1,000. For details contact Tracey Browning 0466 664 933 or tracey.browning@southsideflyers.com.au
Tickets for Game 2 at MyState Bank Arena, to be played on Wednesday March 2, will be on sale via Ticketek from Monday February 21.