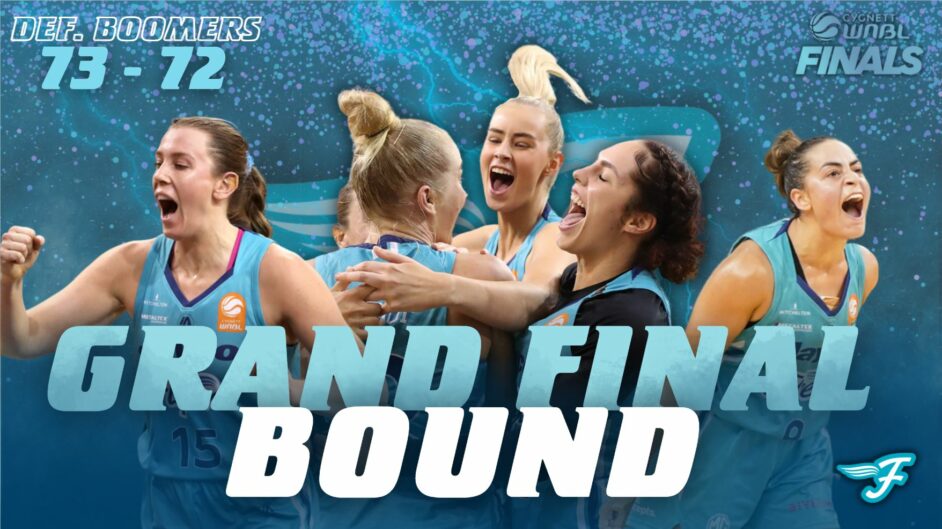 March 16, 2023 | Southside Flyers news
A thrilling one-point finish to the series decider against Melbourne has put the Flyers through to the WNBL Grand Final – their third in four seasons.
After the Boomers tied up the series 1-1 on Saturday, the deciding game was always poised to be a nail biter from the start, and it delivered.
The biggest margin of the night only ever got out to nine points, and the win was only secured by some insane clutch plays in the dying minutes of the game. From Maddy Rocci in particular, who put up nine points in the final term through aggressive drives, clutch free throws, and an ice cold three that put the Flyers up by two with a minute to go.
Cayla George answered back with a three of her own to put the Boomers up by one, but Rocci saved the day with a precise assist to Kayla Thornton who had a wide open layup to seal the series by one point.
Sarah Blicavs was carrying the scoring load in the first three quarters, as all four of her field goals were from deep to claim 14 points total. An injured Kayla Thornton only played 19 minutes but still managed to put up 12, while Carly Ernst had 10 of her own off the bench (eight in the second quarter).
"I think that's the best thing about the team, that we can have multiple players that can come in and score and attack at any time. We have good players that come in and play their role," said game MVP Maddy Rocci.
The Flyers had a stranglehold on their cross-town rivals all year, as their only loss came to them in game two of this series. But it all came down to one point in the end, showing that anyone can beat anyone at the top of the league.
The Flyers will take on Townsville Fire on Saturday, who finished the top of the ladder and receive home-court advantage, in the best-of-three grand final series. The Flyers are yet to beat them this season, but are displaying some inspired team basketball right now, playing hard for each other and the Flyers supporters.
Saturday night's game is at 8:00pm Victorian time and will be live on ESPN, 9Now and Kayo.
Game 2 is at the State Basketball Centre on Wednesday March 22 -Tip Off at 6:30pm.
Click Here for tickets to Game 2