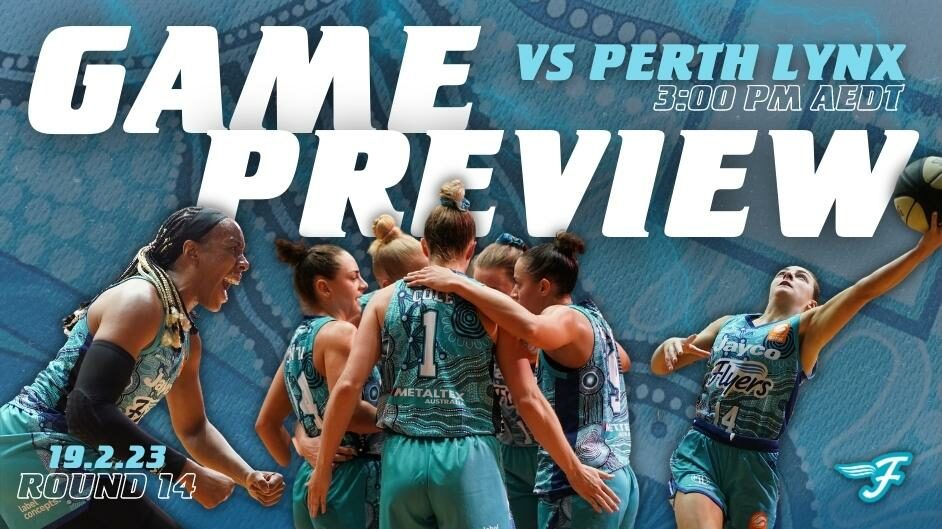 February 17, 2023 | Southside Flyers news
In the third last game of the regular season, the second-placed Southside Flyers will be trying to hold off the Perth Lynx at the State basketball Centre on Sunday to secure their spot in the WNBL finals.
The Lynx are also playing for a potential finals berth, having been surging with a seven-game winning streak prior to losing their last two games. They are currently fifth on the ladder, a game outside the top 4, but with a game in hand.
With both teams trying to make it to the post-season, the stakes are high once again for the Flyers, just as they were in their last game against the fourth-placed Bendigo.
"Everyone in the top five are playing each other so it's super important, as the Bendigo one was. It's like a mini grand final again. If we get this one we'll be feeling okay, but it's a big game," said Flyers head coach Cheryl Chambers.
The Flyers managed to come out on top against Bendigo without Lauren Jackson, who will now be on the sidelines for the rest of the season with an Achilles injury. A huge out, the team will have to back up their performance with another display of quick team basketball as they adjust for the rest of the season.
"It is different, certainly because Loz (Lauren Jackson) is such a big presence so you certainly do play a lot different without her out there. So we've been trying to play a bit faster which can suit us at times. Everyone needs to get in and help with our scoring and rebounding that we miss without her," Cheryl said.
Perth are a team that can match the fast-pace of the Flyers, fuelled by captain Sami Whitcomb. She played a huge game and led her team to victory against the Flyers in January. She will certainly be a focus on the defensive side of the ball to minimise her impact.
With speedy play and shooters at every position for the Lynx, Southside's defensive transitions will have to be on point to close out shots from deep to come out on top.
"We're one and one with them, so I think it is a really even match-up. They play a really fast, up-tempo style of game so it is a bit different. Being one and one we're super keen to have the head to head on them for whatever happens in the finals," Cheryl said.
This one is sure to be an entertaining tussle, with high stakes and high-tempo basketball, as the Flyers will be playing their hardest to win the season series and more importantly maintain their spot in the top two.
A big game as part of WNBL Indigenous Round with some wonderful pre-game Indigenous celebrations. So be at the State Basketball Centre well before the 3pm tip-off to enjoy an entertaining and exctiting afternoon.
Buy tickets to Flyers V Lynx at the State Basketball Centre Sunday Feb 19 HERE