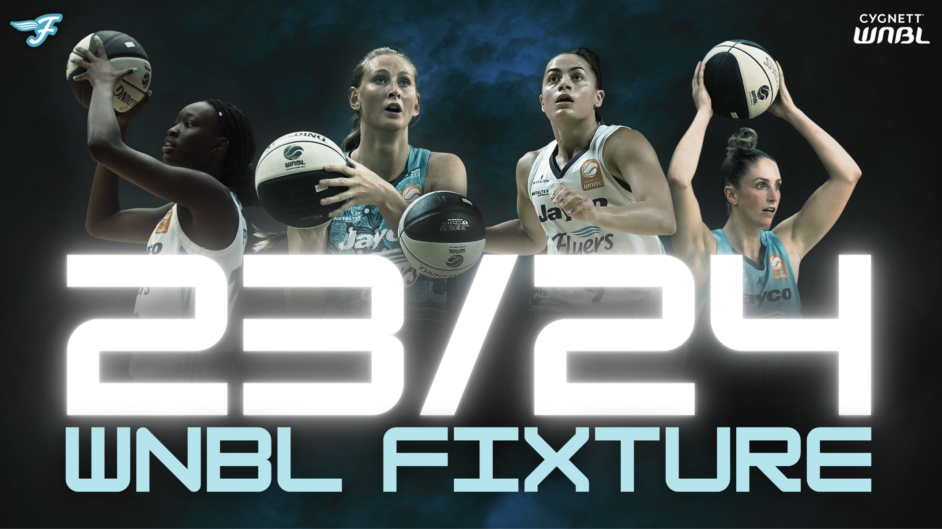 July 12, 2023 | Southside Flyers news
The Cygnett WNBL has released the fixture for the 23-24 season, with the Flyers set to start the new campaign with a Melbourne Derby home game against the Boomers, at the State Basketball Centre, on Saturday November 4.
A rematch of the thrilling semi-final series from last season, with a number of changes to the playing line-up for both teams. It promises to be an exciting start to the season as the WNBL celebrates Indigenous Round to commence the 23-24 season.
The Flyers head to Townsville in round 2 for a rematch of the Grand Final with another away game in round 3, before enjoying four consecutive home games at the State Basketball Centre from late January to mid-December. The Flyers will play 10 home games during the season.
Flyers Members is set to be released in early August and individual game ticketing will be on sale prior to the season.
With the fixture released, the Flyers are not set to commence announcing the players who will be striving to go one better in 23-24.
"We are excited to be opening the new season at home, and against our cross-town rivals will make for a great atmosphere. Playing in front of our Flyers family is always great and I am sure our supporters will play their part and help give our team a great start to the season," said Flyers coach Cheryl Chambers.
"The release of the fixture is a real starting point for the new season and provides certainty around our planning. We know we have to continue to improve as a team and look forward to officially announcing the exciting playing roster in the coming weeks," added Cheryl.
All games will be broadcast via either ESPN or NineNow.
Click Here for the Flyers Fixture.
The Cygnett WNBL is Australia's longest-tunning elite women's sporting competition, and 23-24 will be the 44th season of the competition. Commencing in the first week of November, the final game of the 84-game season, with each team playing each other three times, will be on February 24.
The best-of-three games Semi-Finals will commence on February 28 followed by the Grand Final series to be played on March 10, 13 and 16.
The League will break from February 5 to 12 for a FIBA qualifying window where the Australian Opals will compete for a spot at the Olympics in the 2024 Paris Qualifying Tournaments.