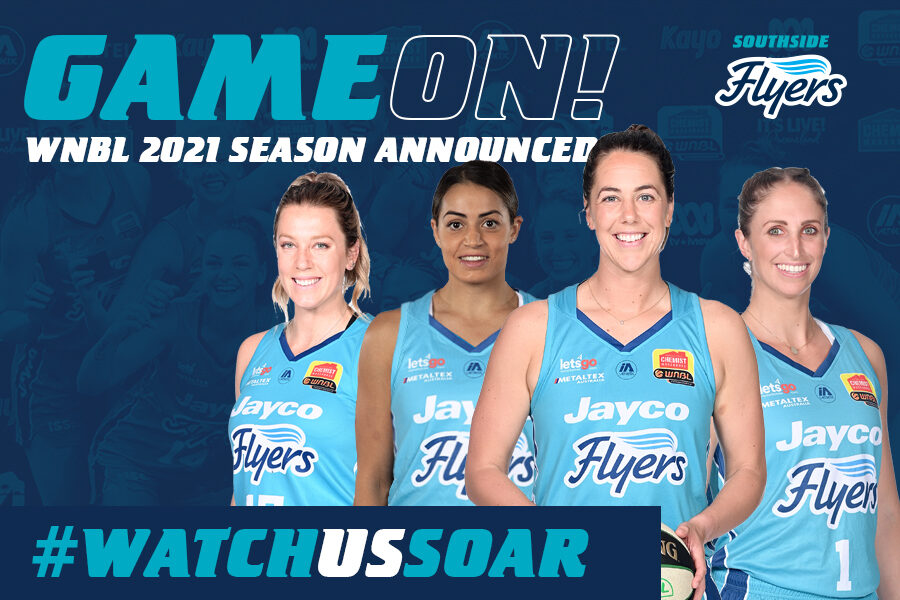 October 26, 2021 | Southside Flyers news
Flyers to open the 2021-22 season in front of home crowd
The Flyers will unveil the 2020 Championship trophy in the first round of the 2021-22 WNBL season in a home game against Bendigo Spirit at Dandenong Stadium on Saturday December 4.
"This is a great way to start our season, a home game in front of our fans, it will be very special to be back playing in front of the Flyers family, and we are really looking forward to it," said Flyers Coach Cheryl Chambers.
Basketball Australia today announced the 2021-22 season fixture which commences in the first week of December with the Flyers final regular season game scheduled for Friday March 25. The finals will commence on March 30 with the best of three Grand Final series scheduled to commence on Wednesday April 6.
The Flyers Championship defence will see the team play three home games and one away game (against cross-town rivals Melbourne Boomers) in the first four rounds prior to Christmas.
"Coming off a championship season provides real motivation for the team to continue to improve and continue to earn the respect of the basketball community. While we have some different personnel, we have the same attitude and the same expectations as we did in 2020.
"The big difference this season is the opportunity to play in front of our home fans, something we are really looking forward to and what better way than a home game in round one and three home games before Christmas," Cheryl added.
Flyers captain Jenna O'Hea said knowing the fixture added to the anticipation of the season.
"It has been great to be back training with the team preparing for the season and now we know exactly what the season looks like it adds to the excitement. We know it is going to be another exciting season and we can't wait to be back playing in front of our supporters, our family and friends. We really missed the great support of the Flyers family last season."
Due to COVID-19 Basketball Australia has been forced to revise plans in the desire to ensure a full season for the WNBL and the 2021-22 season fixture delivers this with 84 regular season games to be played.
"It is important to appreciate and acknowledge the ongoing work of Basketball Australia, the clubs and the players for working through so many issues to ensure we are able to return to playing a full season.
"As a team we also wish to acknowledge and thank Gerry Ryan for his ongoing support. Once again, we have had to navigate through difficult times, and Gerry has been incredible, he has created a wonderful environment for the players, coaches and staff," Cheryl added.
The Flyers have commenced pre-season training for the upcoming season and will announce details of pre-season matches in coming weeks.
2021-22 WNBL Season
Nine home games at Dandenong Stadium
Opening round home game on Saturday December 4
Four home games in the first five rounds of the season
Grand Final re-match is a home on Thursday December 23
Four home games in the final five games of the season
Click here for the Flyers 2021-22 WNBL season fixture
WNBL Season
84 regular game season
All games broadcast live on Kayo
Saturday 5:00pm game will be broadcast live on Fox Sports and ABC each round
Click here to view the complete WNBL 2021-22 season fixture
Now the season fixture has been finalised, Flyers 2021-22 Membership will be launched in early November.
Click Here and register to receive membership details before they are launched online.