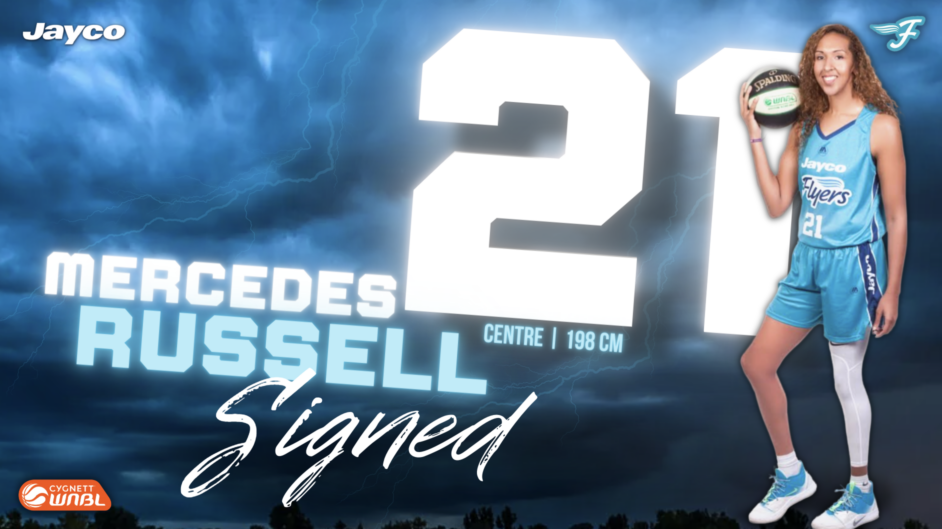 August 10, 2023 | Southside Flyers news
The Flyers are set to welcome back Mercedes Ruseel for the 2023/24 WNBL season. Russell played a pivotal role in the Flyers' historic journey to the Grand Final series in our original season in 2019/20 and is set to join the Flyers team at the conclusion of her current season with Seattle Storm in the WNBA.
The 198cm centre had a big impact on and off the court for the Flyers during the 2019/20 season, winning the WNBL Defensive Player of the Year and becoming a fan favourite with her strong play at both ends of the court, averaging 16.5 points per and 9.8 rebounds per game.
Coach Cheryl Chambers is excited about Russell's return, which was originally planned for the 2020/21 season but was postponed due to the pandemic.
"Mercedes was fantastic for us when she was here in our first season and has been keen to come back. We are really looking forward to her returning to the Flyers. She will be awesome inside, and her WNBA experience will be invaluable for the team."
Russell herself also shared her eagerness to be back in Melbourne with the Flyers.
"I am looking forward to coming back to Australia and to be playing with the Flyers again, it has taken longer than I wanted to be able to be part of the Flyers again. I really enjoyed my time with the team in 2019 and look forward to playing in front of the Flyers fans again," she said on route between Connecticut and Atlanta with Seattle Storm.
Russell was born in Oregon and went to Tennessee College before being drafted by New York Liberty with the number 22 selection at the 2018 WNBA Draft. She has played with Seattle Storm since 2018, a season with the Flyers in 2019/20, and played for Galatasaray in Turkey in 2020/21.
Russell joins the returning Bec Cole, Maddy Rocci, Nyadiew Puoch, and Carley Ernst, together with the exciting Dallas Loughridge who is returning from injury on the Flyers team, in what is shaping as a formidable roster for the upcoming season.
Further announcements, including the return of a Flyers' Championship player and, for the first time in the club's history, a second import, will be announced in the coming weeks.
Flyers Membership is set to be released next week with priority access for previous members.