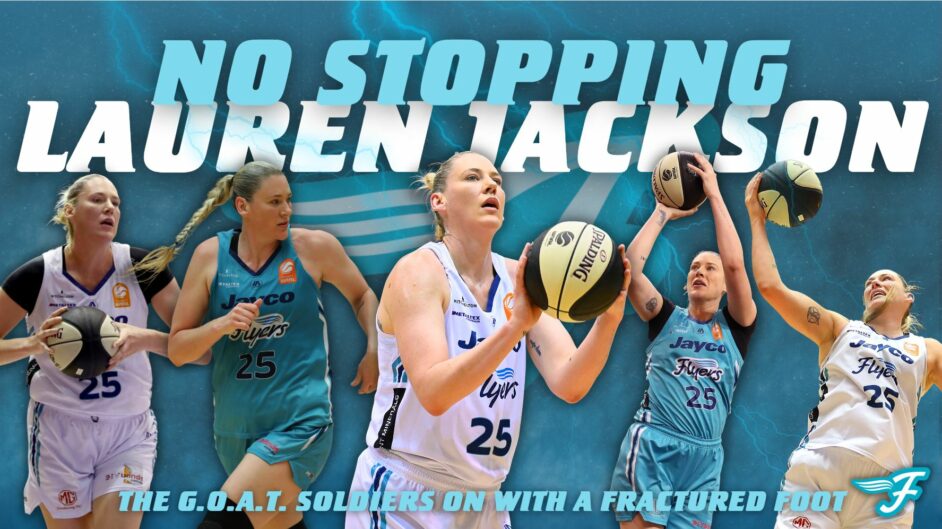 January 17, 2023 | Southside Flyers news
No Stopping Lauren Jackson
Lauren Jackson confirmed today that she has been playing with a fractured foot after suffering the injury in round 5 of the season.
"I suffered the injury in the game against Perth in early December and while it has required additional rehabilitation following each game, it has not, and will not stop me playing.
"I have worked with our medical team and specialists, and it is an injury I am able to continue to play with, and importantly, there is no long-term issues," LJ said as she prepared to play against the Flames in Sydney on Wednesday night.
Flyers coach Cheryl Chambers confirmed Lauren had been playing with the injury and had not changed her role in the team or playing time over the last month.
"It is another example of the incredible dedication Lauren has to the game. She has made an incredible comeback to the WNBL and while the injury is disappointing, thankfully she will continue to play," Cheryl added.
The Flyers play three away games in the next two weeks before returning home to Melbourne for the history making game at John Cain Arena on Saturday February 4. A game that will provide all sports fans the opportunity to come together to celebrate Lauren Jackson, Australia's greatest ever basketballer.
Jayco Southside Flyers v Sydney Flames
Saturday February 4 at 6:30pm
John Cain Arena
Tickets available via Ticketek 
Adults $20         Children $5
Click Here to purchase and become part of sporting history.