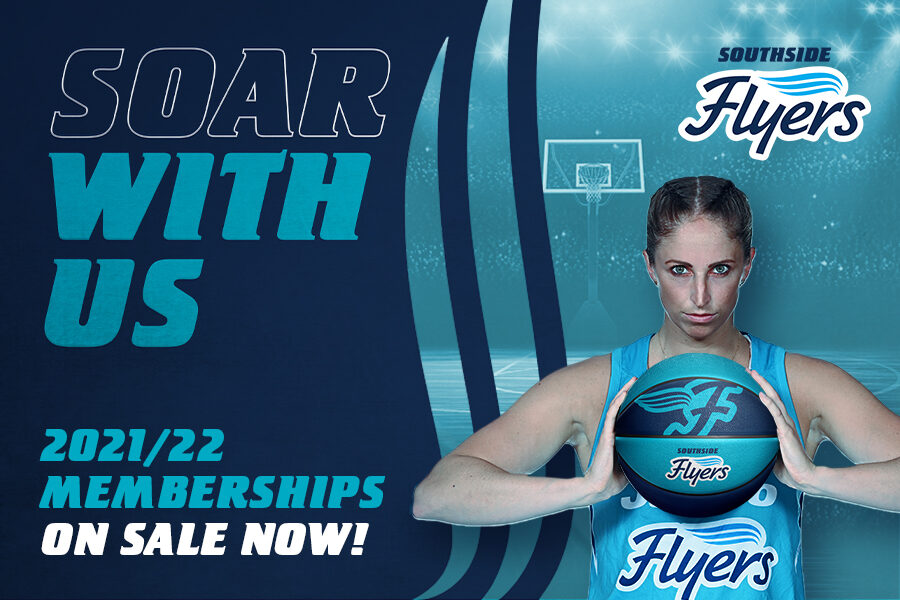 November 18, 2021 | Southside Flyers news
Flyers Membership – Join Today and Soar with the Flyers in WNBL 21/22
Secure your Southside Flyers membership for WNBL 21/22 and be part of the Flyers family as we strive to go back-to-back.
2021/22 Southside Flyers Memberships – Join Now
Our title defence will commence on our home court in front of our home crowd in round one – Saturday December 4th. A title defence but also the start of our attack on the 21/22 Championship.
Jenna O'Hea will once again lead the Flyers along with returning Championship players Sara Blicavs, Bec Cole, Aimie Clydesdale and Rachel Jarry together with new stars who have joined the Flyers this season –Maddison Rocci, Kristy Wallace, Abby Bishop, Kate Gaze and Emilee Whittle-Harmon.
It promises to be another exciting season and making it even more exciting, after winning the WNBL Championship in 2020, will be playing at home in front of our supporters.
"Coming off a Championship, we have the same attitude and expectations as we did in 2020. The real bonus for us this season will be playing in front of our home supporters, it will be very special to be back playing in front of the Flyers family, we are really looking forward to it," said Flyers Coach, Cheryl Chambers.
Membership is for all nine home games at Dandenong Stadium and is not only great value it is the best way to be part of the Flyers family.
Select from the three game day membership packages available, including the exclusive FLYERS CLUB 50 which provides the very best seats in the stadium, the 'Hollywood Row' and is strictly limited to 50 Members. Other game day memberships are Gold and Flyers Reserve and for those who are unable to attend games but still want to be a part of the Flyers this season, there is a special 'Beyond the Court' Membership.
A home game to start the season and the chance to see the team live for the first time in nearly two years is the perfect way to start the season.
Membership Benefits include:
Membership Pack – membership card, lanyard, bumper sticker, cap, drink bottle
KAYO Sports subscription offer
Exclusive 20% discount on all And1 products, including official Flyers supporter merchandise
10% discount on Flyers Merchandise at home games
Subscription to exclusive Flyers E-News during the season
"We know it's going to be another exciting season and we can't wait to be back playing in front of our supporters. We really missed the great support of the Flyers family last season," said Captain, Jenna O'Hea
Join the Flyers team in 2021 and enjoy some great benefits and be part of the team as we work together for another Championship.
#SoarWithUs as we strive to go back-to-back in 21/22