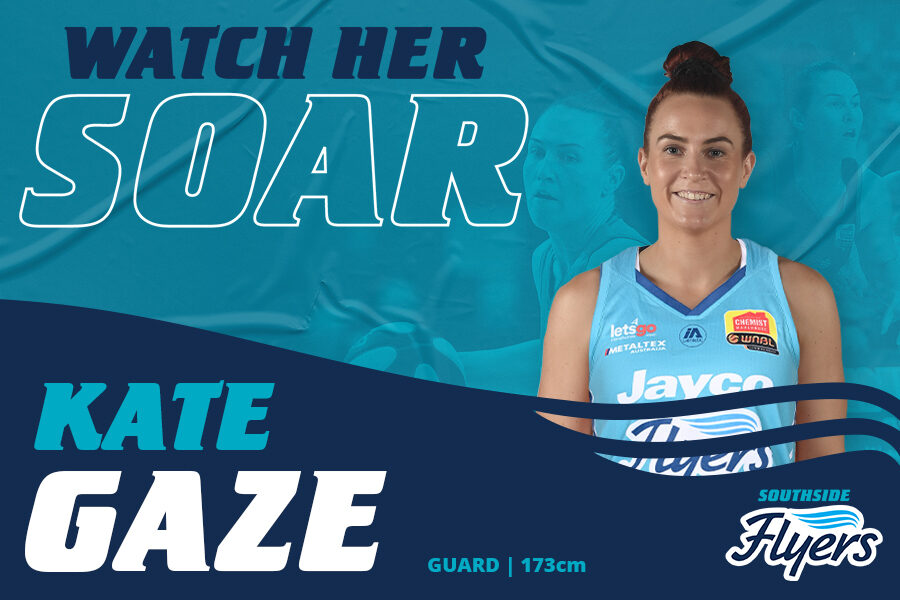 June 24, 2021 | Southside Flyers news
Flyers welcome dual WNBL Championship player, Kate Gaze to the team for the 2021-22 WNBL season.
Gaze is another who is looking forward to being back in Melbourne where her basketball career started and fondly remembers being part of the Dandenong team that won the Under 12 Victorian Championships.
"I am already loving being back in Melbourne and being around family, it has been a long time since I have been able to really call Melbourne home and it is great. The chance to be part of the Flyers has really added to the excitement of being back home," Kate said this week.
A dual championship player with Townsville, Gaze was also a member of the Townsville team that lost the Grand Final to the Flyers last season, so she knows the Flyers team very well.
"I was thrilled to chat with Cheryl (coach Cheryl Chambers) about the team and to be given the opportunity to join the Flyers is exciting. In just two season Southside has established such a strong team with a great work ethic and a fantastic culture, on and off the court. I am really looking forward to the challenge," Gaze added.
Coach Cheryl Chambers said the signing of Kate Gaze is a real bonus for the team for the upcoming season.
"The experience Kate brings to our team is invaluable and we are really looking forward to seeing her on our team rather than playing against her. She is an aggressive, assertive player who can really light it up while also having the ability to bring other players into the game.
"She will be an important player for us and, being a quality person, she will add to our leadership on and off the court I am sure, having seen the work she has done in recent years, will work with the local communities," said Cheryl.
(Gaze was named the Townsville Fire's Club Person of the Year for the last two seasons).
Kate is a graduate of the AIS and played three seasons with the AIS in the WNBL and three with Townsville Fire before a successful College career in the USA. Kate played five seasons for the St Mary's Gaels in California in the NCAA's Division 1, being named in the West Coast Conference All-Freshman Team in 2010. She returned to the WNBL with Townsville in 2014  for two seasons before joining Canberra Capitals in 2016 and then returned to Townsville Fire in 2019. Gaze also played in Germany during 2018.
Kate joins another guard, Maddison Rocci, as exciting new additions to the Flyers team for the upcoming season.