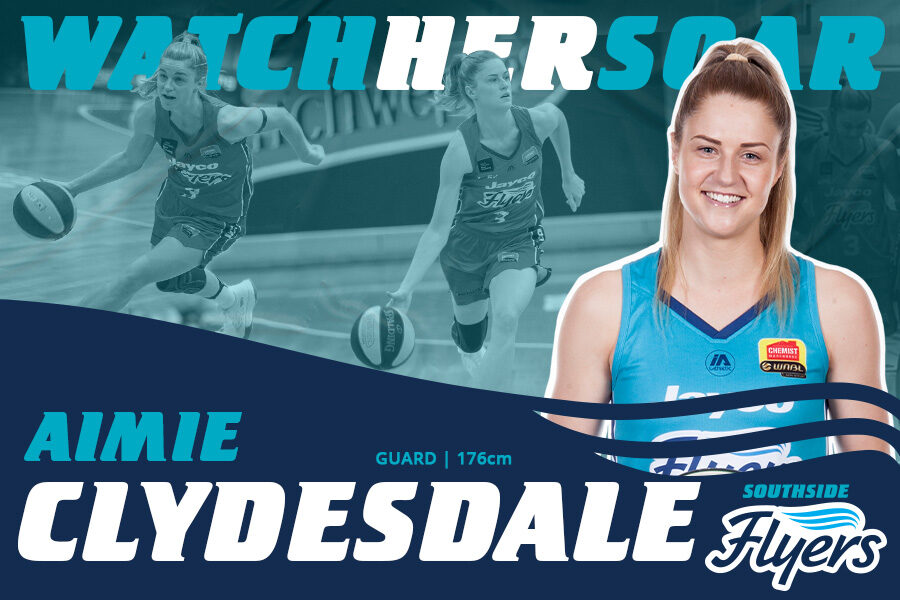 November 5, 2020 | Southside Flyers news
Aimie has been playing in the WNBL for more than a decade and, as a Dandenong Rangers junior, came full circle when she returned to the very stadium she grew up in to play for the Flyers.
An experienced point guard, Aimie commenced her WNBL career with Dandenong in 2010 and was a member of the Rangers 2012 Championship team. In more recent times she has played in the past two WNBL Grand Final series – with Adelaide in 2018-19 and the Flyers in 2019-20. She'll be hoping its third time lucky this season in Queensland!
In the teal last season, Aimie sensationally stepped into the starting five following a hand injury to captain Jenna O'Hea and did a terrific job. As a starting guard her minutes went from around 20 to 30-minutes a game with the highlight being her 18-point game in the thrilling victory in Game 2 of the Semi-Final series in Adelaide against the Lightning.
Aimie is a secondary school teacher and proud aunty. After a Flyers home game you'll see her gorgeous nieces and nephews on court with her proudly sporting their No.3 singlets.
Sara Blicavs is in Aimie's wedding party for her marriage to Kristian Rocci, the older brother of two-time UC Capitals championship winning guard Maddy.
Cheryl Chambers on Aimie:
"Aimie is a super athlete, quick on her feet, can shoot the 3, pull ups and get to the rack. She can also find the open teammate and has a great basketball IQ. Importantly she is a terrier on defence."
FOLLOW AIMIE ON INSTAGRAM: instagram.com/aimclydesdale