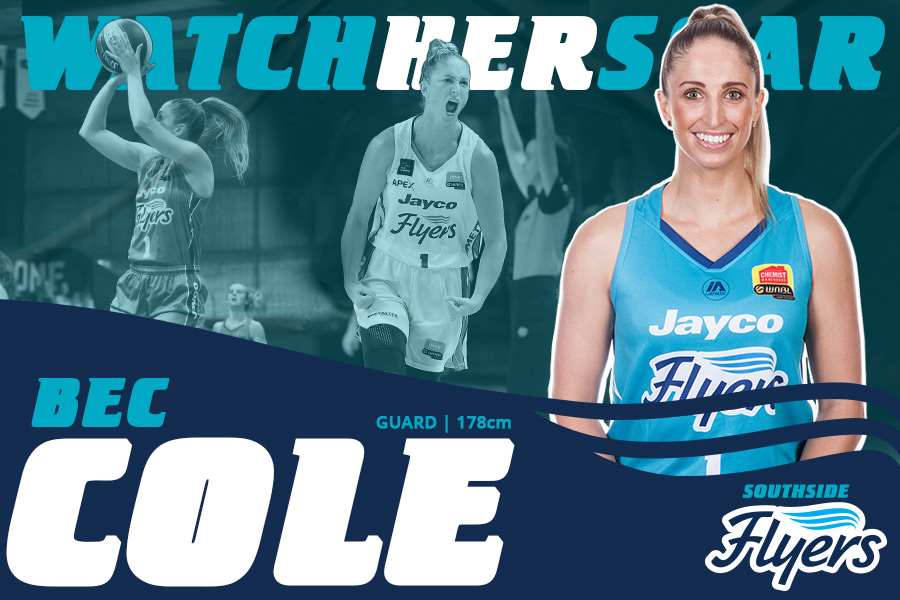 November 10, 2020 | Southside Flyers news
Bec Cole is enjoying the golden years of her basketball career after overcoming more injury setbacks than most athletes have endured.
The star shooting guard is a poster girl for resilience, hard work and determination, bouncing back from several serious knee surgeries to establish herself as one of the WNBL's leading players over the past two years.
Bec played with the Melbourne Boomers and was part of their Grand Final series in 2017-18 before crossing to Dandenong Stadium and joining the Rangers. It was a breakout season of sorts with Bec claiming club MVP, winning selection in the league All-Star Five and finishing second, behind Canberra's Kelsey Griffin, in the Suzy Batkovic Medal for the WNBL's most valuable player.
Her great form continued when she joined the Flyers in the teams' inaugural season last year, winning selection in the WNBL All-Star Second Team and being selected in the Opals squad for the Tokyo Olympics.
Adding to her basketball portfolio, the 28-year-old is one of the world's best 3×3 players and in 2020 is a member of the Australian 3×3 national team, having represented her country in the 2019 3×3 World Cup.
Bec is passionate about health and wellness, is an Ambassador for Lymphoma Australia and helps promote the positive messages through her sizeable following on social media. Quick and determined, Bec's constant smiling and fun outlook can disguise her incredible will to win.
Cheryl Chambers on Bec:
"Bec is an incredibly hard worker and a really important player in our team, most importantly for her playing ability, but also her bubbly personality which is infectious around the team."
FOLLOW BEC ON INSTAGRAM: instagram.com/rebeccajcole