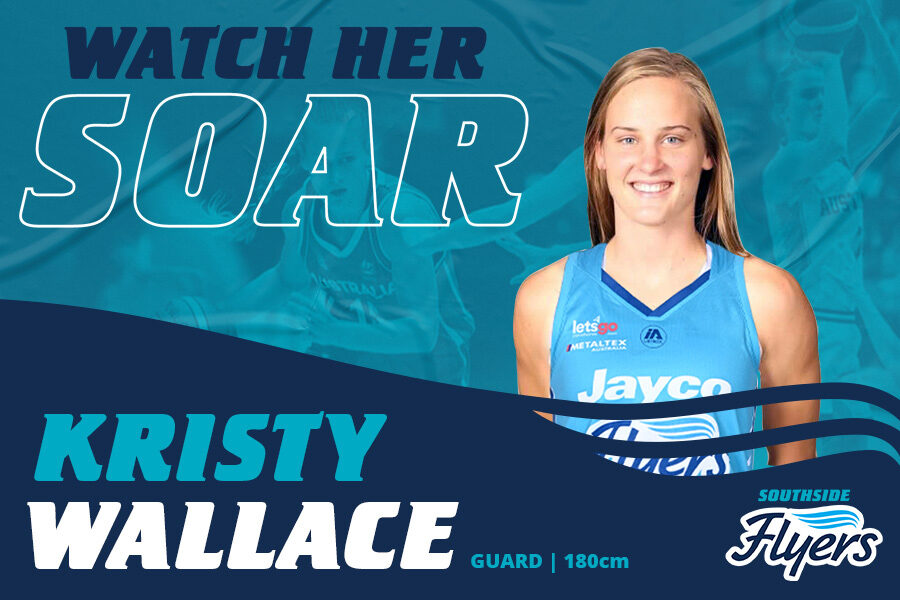 October 21, 2021 | Southside Flyers news
Fresh from winning a bronze medal with the Opals at the FIBA Asia Cup campaign, Kristy Wallace has joined the Flyers for the 2021-22 WNBL season.
The 25 year old enjoyed an outstanding junior career, represented Australia and had a successful four years of College basketball in the United States before injuries interrupted her career. Her return to the Opals team in September confirms her career is now back on track.
"I am really looking forward to the upcoming season with the Flyers, just starting training with the team has been exciting," Wallace said this week after official training commenced.
"I have been amazed at how Southside has established such a strong team in just two seasons. From the outside it seemed to be a happy team with a fantastic culture, and now being involved I have seen this first-hand, and it is great to part of such a wonderful group. I am so looking forward to an exciting season with this team," added Kristy.
Flyers coach Cheryl Chambers is delighted to welcome Wallace to the team and knows she will not only be an important player for the team but a fan favourite.
"Kristy is an exciting player, a real livewire who brings other players into the game. She is fast, has quick hands and importantly plays both ends of the court, complementing her offensive skills with a fantastic defensive mindset.
"She has a fantastic work ethic and will be an important player as well as being another quality person for our organisation, on and off the court," said Cheryl.
Kirsty's junior career commenced at school in Brisbane before enjoying a very successful college career at Baylor University in Texas where she was co-captain of the team in her senior year (2018) and was also named in the All Big 12 Conference Team of the Year and All Defensive Team. Such was her standing in the game she was selected by the Atlanta Dream with the 16th pick in the 2018 WNBA draft. Unfortunately injuries halted her WNBA career before it started.
A knee injury in her second game with Canberra in late 2018 forced Wallace to complete an extensive rehabilitation program before returning to the court. After a successful comeback, more recently in NBL1, Wallace is looking forward to returning to the 'big league' and being part of a successful Flyers team.
The 2021-22 WNBL season fixture is expected to be released later this month and Flyers Membership will be launched following the release of the fixture. With a limit on crowd numbers members will receive priority to attend all home games.
Click Here to Register and receive Membership information as soon as it is released.