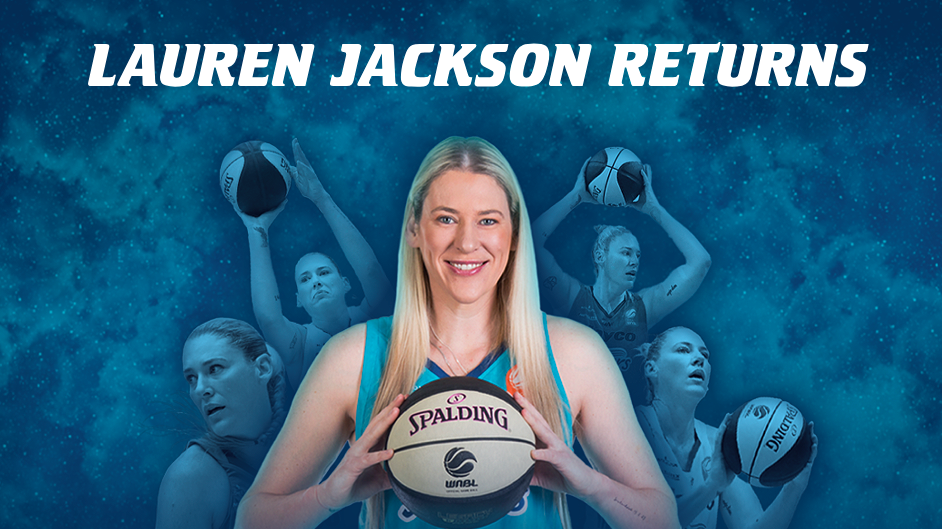 October 2, 2023 | Southside Flyers news
"I'm not done yet"
Australia's greatest-ever basketball player, and global basketball icon, Lauren Jackson, is set to return to the court with Southside Flyers for the 2023/24 WNBL season in a major boost for the team and for women's basketball in Australia.
Jackson returned to the WNBL with the Flyers last season after a triumphant international comeback, where she led the Australian Opals to bronze medal at the 2022 World Cup in Sydney. Her successful comeback to the WNBL, which was celebrated by big crowds around Australia, was cut short in February when she sustained a season-ending Achilles injury.
Jackson's unwavering passion and resilience, and incredible commitment to her rehabilitation shines through as she makes a remarkable recovery at the age of 42. Not only will the Flyers benefit having Jackson in the team, but Flyers fans and indeed all Australian basketball fans, will once again have the opportunity to see the "GOAT" in action.
Jackson admitted she wasn't sure how she would overcome the injury setback but is ready to play and is feeling fitter than she has for many years and is looking forward to receiving the incredible support from fans again.
"I honestly didn't know if I would be ready for the WNBL this season, but I am fitter that I was last year, it's the best I have felt in a long time. The rehab has gone really well, and the club has seen me on court, and they know I am ready. That's why we're here again.
"I can't wait to get back on the court with the Flyers, I am going to enjoy the season, have fun and play with my friends and really embrace every moment. I love playing under Cheryl (Flyers Coach Cheryl Chambers), the Flyers have a great culture, and the team feels like family and have provided great support to me to be ready for another season," Lauren said.
To celebrate the return of Lauren Jackson, membership will be reduced by up to 15% for all new members who join between now and Friday October 6. 15 being the number Lauren will wear for the Flyers this season, a return to the number she has worn throughout her incredible international career.
Click here for membership details.
Owner of the Flyers, Gerry Ryan, is thrilled that Jackson has overcome her injuries and is ready to return for the Flyers. A well-known patron of Australian sport and advocate of women's sport, he knows the impact Jackson has on the game.
"Lauren is an icon of world sport, and we are thrilled she has overcome her injuries and is back with the Flyers this season. She has had an enormous impact, not only in basketball, but on women's sport, and we witnessed last season, particularly with the record-breaking game at John Cain Arena, how much she means to the Australian sporting public.
"We know what she can do on the court, and she brings tremendous leadership to our program which our players will continue to benefit from. Importantly Lauren is a wonderful role model and will have a prominent position in building our program to support and develop more opportunities for everyone, in particular girls and women, in basketball and sport in general," Mr Ryan said.
Flyers Coach, Cheryl Chambers expressed her enthusiasm for Lauren's return and her unwavering determination that has enabled her to return in great shape.
"Lauren is not only an incredible athlete but also a true leader on and off the court and her return is a testament to her resilience and love for the game. We saw the impact she had last season, and once again her experience and mentorship will be invaluable to the team, and we are thrilled to have her back with the Flyers," Cheryl said.
Jackson will wear number 15 for the Flyers this season, the number she made famous for most of her career, including with Seattle Storm (WNBA) which retired her number 15 jersey in 2016.
LAUREN JACKSON
Lauren Jackson's resume is a testament to her legendary status in the basketball world, a true pioneer and inspiration for athletes globally, highlighted by:
2 x WNBA Championships in 2004 and 2010
3 x WNBA MVP – 2003, 2007 and 2010
WNBA Finals MVP in 2010
7 x WNBA All Star
3 x WNBA Scoring Champion 2003, 2004 and 2007
Named in the WNBA 10th, 15th, 20th and 25th Anniversary Teams
She played with the Australian Institute of Sport and Canberra in the WNBL, before joining Southside Flyers in 2022/23.
5 x WNBL Championships – 1999, 2002, 2003, 2006, 2010
4x WNBL MVP – 1999, 2000, 2003, 2004
4 x WNBL Grand Final MVP – 2002, 2003, 2006, 2010
6 x WNBL All Star – 1999, 200, 2001, 2002, 2003, 2004
Jackson's career with the Australian National Team, the Opals, Includes:
4 Olympics – 2000 – Silver, 2004 – Silver, 2008 – Silver, 2012 – Bronze
Australia's Flag bearer at the 2012 Olympic Games
5 World Championships – 1998 – Bronze, 2002 – Bronze, 2006 – Gold, 2022 – Bronze
Other Honours
Member of the Australian Basketball Hall of Fame
Inducted into the Women's Basketball Hall of Fame in 2020
Inducted into the Sport Australia Hall of Fame in 2020
Inducted into the Naismith Memorial Basketball Hall of Fame in 2022