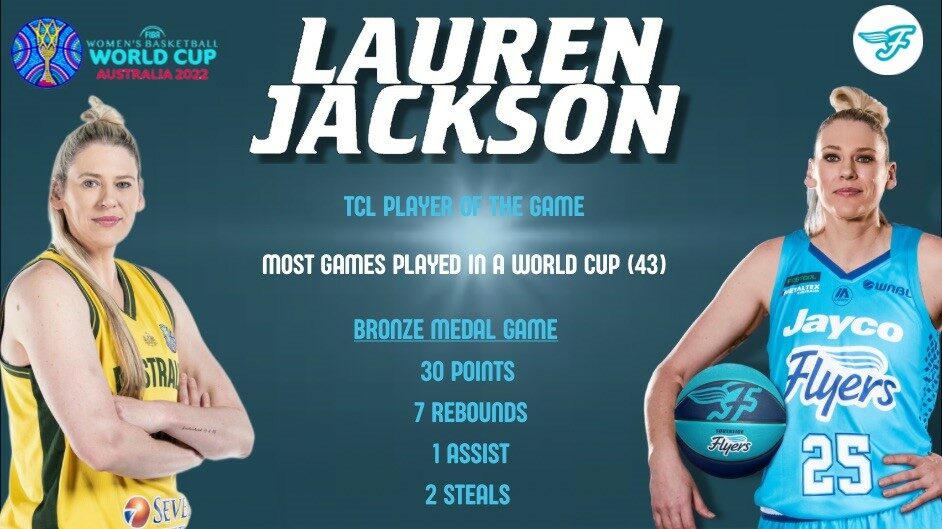 October 2, 2022 | Southside Flyers news
Don't miss the chance to see Australia's greatest ever basketballer in action for the Flyers – Reserve your seat now.
While Lauren Jackson may have retired from her Australian duties, basketball fans still have the chance to see Australia's greatest ever player in action with Southside Flyers during the 2022/23 WNBL season.
Fresh off a 30-point game in the Opals bronze medal winning game against Canada, Australia's greatest basketballer, Lauren Jackson, is now preparing to return to the WNBL, to continue her career at the elite level – with Southside Flyers.
If the upcoming season wasn't exciting enough for Flyers fans, we now get the chance to see the player known as the GOAT as part of the Flyers team for the season. And the best way to secure the best seats to be part of history is to become a member and be part of the Flyers family.
The Opals re-established themselves as a true force in world basketball at the FIBA World Cup adding to the standing of the WNBL competition as one of the very best in the world. With many of the Opals playing in the WNBL, including Lauren Jackson and Sara Blicavs with the Flyers, there has never been a better time to be part of the action.
Already confirmed to be joining Jackson and Blicavs in the Flyers team for 2022/23 season are Bec Cole, Maddy Rocci, Abby Bishop, Aimie Cole, Carley Ernst, Dallas Loughridge, and Nyadiew Puoch with one more key player and the development players to be officially announced in the coming week.
There is no rest for our Opals – Jackson, Blicavs and coach Cheryl Chambers – it is back to training with the Flyers this week as the team continues preparations for the opening game of the season against Adelaide at our new home, the State Basketball Centre, on Saturday November 5.
This will be the first of nine home games for the Flyers at the State Basketball Centre for the season, and basketball fans will have the opportunity to be part of these historic games.
All Flyers members will have access to the very best reserved seats for every game.
Click for your season reserved seat
Members of the Flyers have access to the best seats available at the State Basketball Centre, with all members having their very own reserved seat for the season. History is set to be made this season with the return of Lauren Jackson to the WNBL, and a Flyers membership will ensure you are part of basketball history.
Become a member today for your choice of the very best seat available.