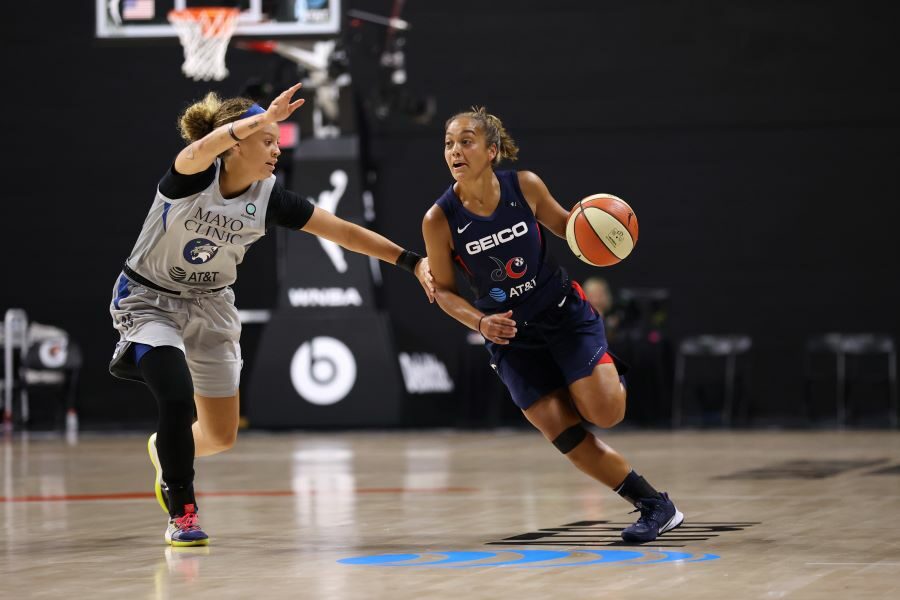 September 11, 2020 | Southside Flyers news
Leilani Mitchell was the special guest with Sara Blicavs on "Sayin' it with Sara" last Sunday, very good timing after her 20-point, 12-assists, game for the Washington Mystics victory over Chicago Sky in the WNBA the day prior.
The Flyers 'pocket rocket' has led the young Mystics turnaround over the last 4 games with 3 wins after winning only one of their previous 13 matches. Prior to the game against Chicago Leilani was averaging 8.8 points and a team leading 4.3 assists per game.
The Chicago game was a real turning point for the team and Leilani has been a real key, averaging 14.75 points and 10 assists in each of the last four games.
Leilani spoke with Sara after the team evening meal and prior to a bingo night in the WNBA bubble and said how it has taken time to adjust to living in the bubble. She was obviously very happy, not only with her own performance against Chicago, but more importantly the win.
"It was fun," was Leilani's quick response about the win.
As well as talking about life in the bubble and the WNBA season, Leilani spoke about growing up in Washington State, her love of Australia and of course how excited she was to be coming back to play with the Flyers in 2020/21.
"Such a great group of people, not just the players, the whole organisation and I loved playing with the Flyers last season and am looking forward to getting back to play with the team again this year," Leilani said.
While the WNBA spotlight for Australia is on the Seattle v Phoenix game on Saturday, with 4 Opals (3 players and senior coach) involved in the game, plus of course Mercedes Russell plays for Seattle, the real focus for Flyers fans this weekend will be very early Sunday morning (Melbourne time) when Washington, featuring the premier point guard, play New York Liberty.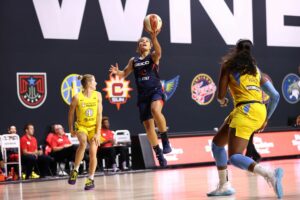 Photos: WNBA/Getty Images