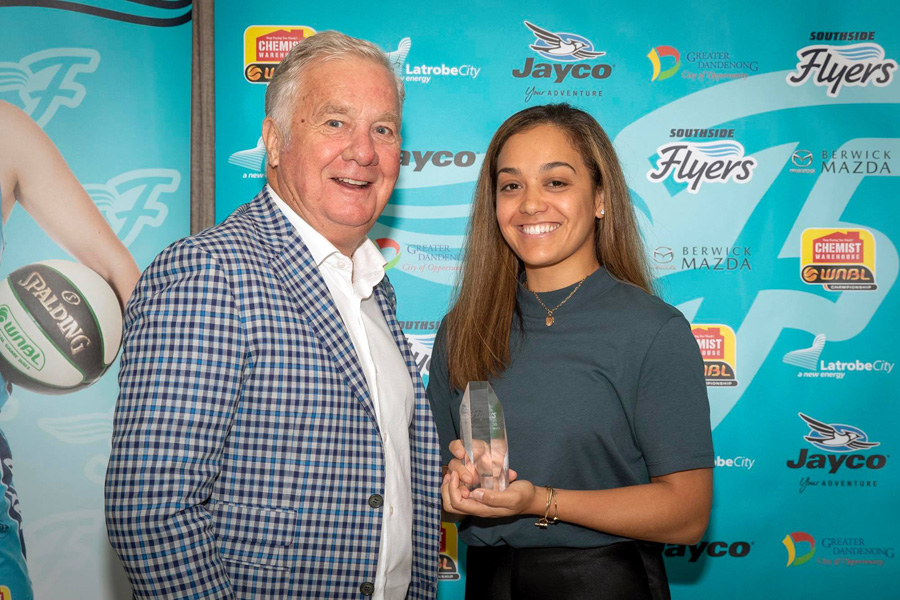 March 11, 2020 | Southside Flyers news
Leilani Mitchell has taken home the inaugural Flyers MVP trophy after yet another terrific season in the WNBL, leading the league's best offence with her superb playmaking at the point guard position.
Mitchell averaged 15.7 points and 5.2 assists per game for the Flyers with efficient shooting splits, shooting 45% FG and a superb 42% from 3PT.
Jenna O'Hea and Rebecca Cole were just behind her in the voting finishing equal 2nd for the Runners Up awards, while Mercedes Russell took out the Flyers X-Factor award for her excellent play at both ends of the court.
It was fitting that all four of these Flyers stars took home awards after earning WNBL All-Star spots for the 2019-20 season. Jenna & Leilani featured in the WNBL 1st Team and Bec and Mercedes finished in the 2nd Team, with fellow starter Sara Blicavs unlucky to not slide in as well.
The last award of the night was the newly created Val Ryan Players Player Award, aptly named after Val Ryan who is the strong woman behind the Ryan family and has shown great support to not only the Flyers but to women's basketball for many years.
The recipient of this honour was Aimie Clydesdale for her strong season as the Flyers 6th man, filling big minutes for Flyers starters including during Jenna O'Hea's injury. The team barely missed a beat in Jenna's absence and this was due to Aimie's brilliance, helping the Flyers to finish on top of the ladder and sweeping our way through to the WNBL Grand Final series.
While we weren't able to clear that final hurdle to the WNBL Championship we sure had fun along the way Flyers Family! We couldn't have done it without your help and we can't wait to begin our second quest for a WNBL title next season.
See you then Southsiders….GO FLYERS!