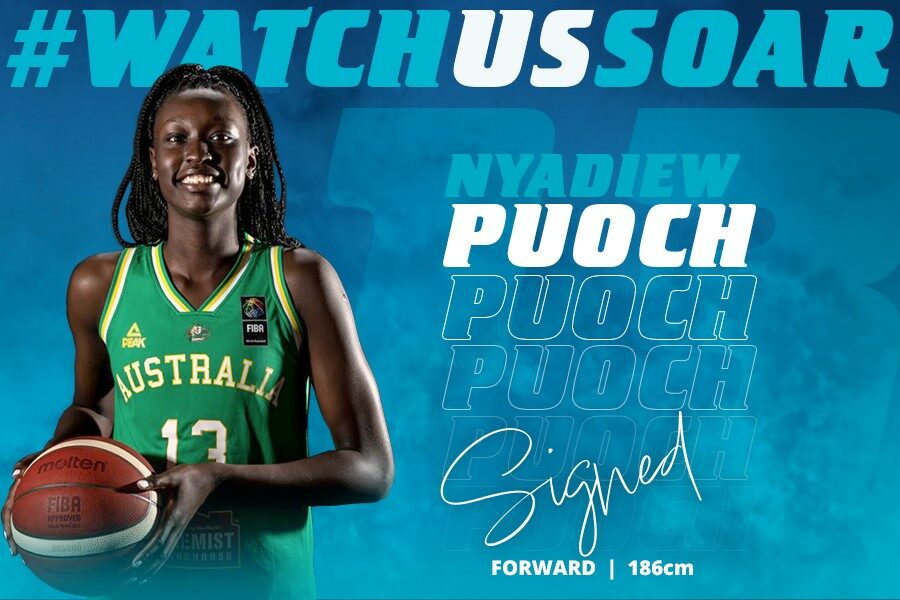 September 8, 2022 | Southside Flyers news
Flyers add a young Australian player to the team
Australian Under 18 (The Gems) representative, Nyadiew Puoch, currently with the Gems at the FIBA Under 18 Asia Cup in India, has joined the Flyers for the 2022/23 WNBL season and will get to play alongside one of her childhood heroes.
A Dandenong junior, Nyadiew represented the Dandenong Rangers from Under 12 through to Under 18 level. She has enjoyed a very successful junior career that includes representing Victorian Metro in the Australian Championships, winning gold in 2019 and 2021 and silver in 2022 where she was awarded the MVP of the Championships.
Nyadiew was part of the Australian Under 19 team that won sliver at the 2021 World Cup in Hungary and she played in the Emerging Opals game against Japan earlier this year. She has been a scholarship holder at Basketball Australia's Centre of Excellence since 2021.
"I am really excited to be joining the Flyers and the opportunity to play in the WNBL. I know it is going to be hard work and I am really looking forward to it and learning from the great players who are now my teammates," Nyadiew said.
In a newspaper article in 2021 she said Australian legend Lauren Jackson was one of her heroes. Now Nyadiew will be playing alongside her childhood hero at the Flyers.
Flyers coach Cheryl Chambers said Nyadiew was ready to expand her game and playing in the WNBL will be fantastic for her as well as for the team.
"Nards is a very exciting young player who not only continues to learn but continues to improve her game. Her athleticism is something that really stands out and I am sure she will enjoy a successful WNBL career. She is sure to become a crowd favourite, particularly being a local Dandenong junior," said Cheryl.
Nyadiew started playing basketball when she was 12 after watching her older brothers playing at Dandenong. Joining the Flyers, she is a true role model for young players in the local region who aspire to become elite basketballers in the WNBL.