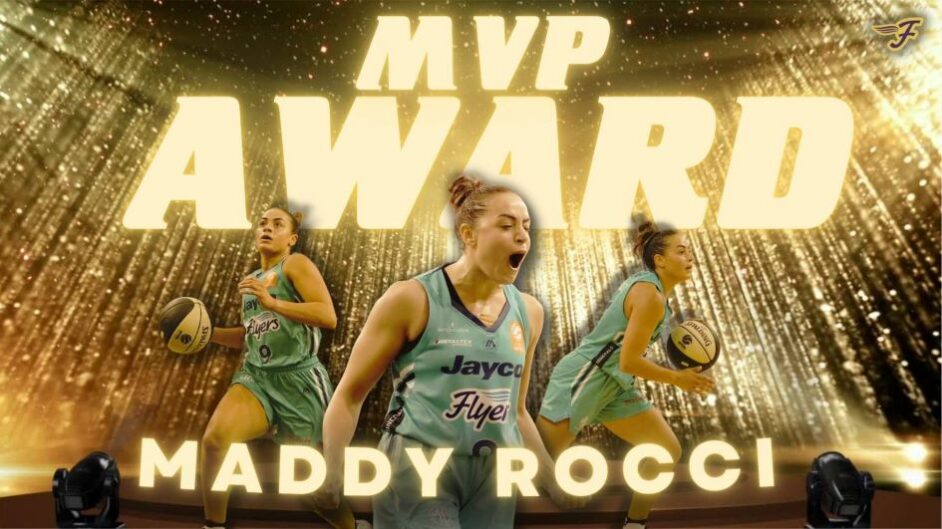 March 28, 2023 | Southside Flyers news
Maddy Rocci the Flyers MVP for the 2022/23 WNBL season
The Players Presentation night was the final event in what was an exciting 2022/23 season for Southside Flyers. While not celebrating what we had hoped for after the team won their way to the Grand Final series, the presentation night was the opportunity to celebrate the exciting season and the highlights, as well as recognise some of the outstanding players of the season.
It was no surprise that Maddy Rocci was announced as the season MVP for the Flyers, after her outstanding season. Maddy led the team in steals and assists and was the second highest scorer for the season and also had the fourth most rebounds for the Flyers.
Bec Cole was the Flyers MVP for the Finals after lifting her game to another level when the pressure was on during the finals. Bec led the WNBL for points scored during the finals series and her points per game average increased from 10.7 during the season to 16.8 during the finals when she was the Flyers leading scorer in both Grand Final Games.
Other Awards presented on the evening:
• Coaches Award – Abby Bishop
• X-Factor Award – Nyadiew Puoch in her rookie WNBL season
• Defensive Player of the Year – Kayla Thornton
• Val Ryan Players Award – Sara Blicavs
During the event held at Prince Deck at The Prince in St Kilda, the focus was on the highlights of the season, including:
• The new home court at the State Basketball Centre, the home of Victorian basketball, providing better facilities for the players, sponsors and supporters and a greater capacity which led to bigger crowds and a great atmosphere at all home games.
• The return of Lauren Jackson to the WNBL with the Flyers and the line-up for her autograph, along with all the players after each home game.
• The Flyers playing a game at John Cain Arena and setting a new WNBL record crowd of 7,681 in a wonderful celebration, not just women's basketball, but women's sport. A true highlight for the Flyers and basketball.
While the season is officially over, the Flyers are wasting no time planning for the 2023/24 season to continue the growth of the recent season on and off the court.