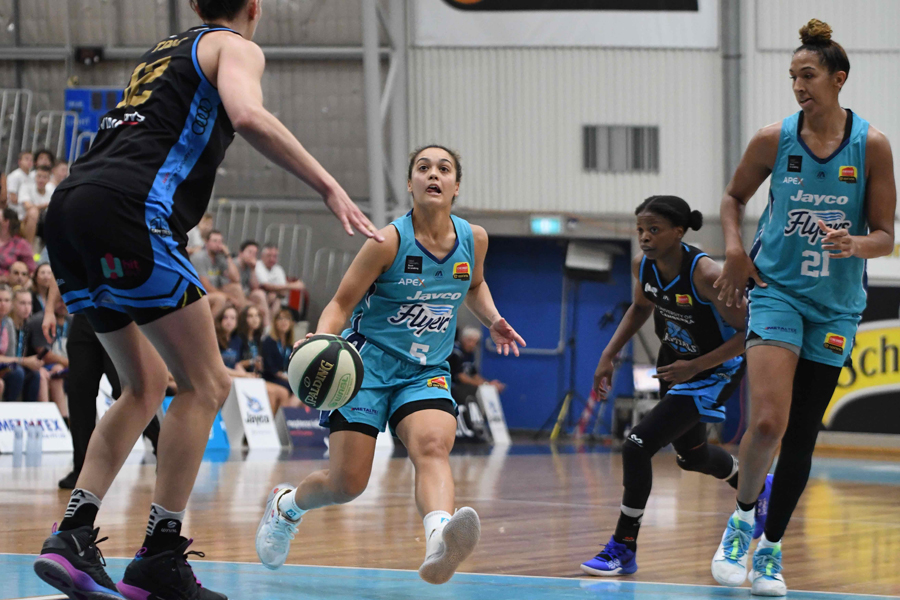 January 20, 2020 | Southside Flyers news
An interesting test for our Southside Flyers produced mixed results in Round 14, as we faced a difficult back-to-back challenge without captain Jenna O'Hea.
Her absence was always going to be a difficult challenge to overcome as Cheryl Chambers builds her new lineups but after Saturday's game you would've thought our Flyers didnt miss a beat. They easily handled the Bendigo Spirit on their home floor and looked like a well-oiled machine offensively, piling on 93 points to Bendigo's 76. But that all came crashing down on Sunday as a fatigured Flyers squad fell to the defending champion Canberra Capitals, pummelling us 98-74 in a game that was particularly close.
SOUTHSIDE FLYERS VS. BENDIGO SPIRIT RECAP
After defeating their other Victorian rival, the Melbourne Boomers, last week the Flyers headed to Bendigo looking to do the same on Saturday in a clash with the last-placed Spirit.
Despite sitting at the bottom of the ladder the Spirit had shown exactly that recently, winning three of their past five games including a big win over the Capitals. But our overpowering Flyers offense was simply too much for Bendigo to handle as we cruised to 73-50 lead at three-quarter time, riding that buffer out to a 15-point victory.
ELTHAM-DANDENONG TOURNAMENT PASS AVAILABLE – CLICK HERE FOR MORE INFO
Aimie Clydesdale stepped into the starting five in Jenna's absence and made a big contribution, dishing out six assists despite an off-shooting night. Kiera Rowe also filled in with some strong minutes off the bench as she hit 3-4 from the field and her usual energetic defense at the three-spot.
But the true key to the game was the continued brilliance of the remaining Flyers Five, with Cole, Blicavs, Russell & Mitchell all pouring on double-digit scoring. Terrific passing and shot selection was once again on display as each continually beat their defender or found the open player. While the Spirit's Tessa Lavey and Carley Ernst matched that offensive output they couldn't find that third or fourth scorer, with the rest of the team combining for 15-50 shooting.
With the starters getting most of the fourth quarter off and each playing only 30 minutes Flyers fans were likely hoping they'd be relatively fresh for their home clash with the Capitals, as we backed things up 20 hours later for a 5:00PM tip-off. That would not be the case however as our Southsiders looked sluggish from the jump, affected by the long return trip up & down the Calder Hwy.

SOUTHSIDE FLYERS VS. CANBERRA CAPITALS RECAP

The defending Champions showed why they are still the team to beat, routing the Flyers by 24 points in-front of a packed Southside home crowd at Dandenong Stadium.
Kia Nurse dominated for the Capitals with 33-points, supported by Maddison Rocci with 19 of her own.
The Capitals moved to 2-0 on their Victorian road trip having beaten the WNBL's top two teams in consecutive games, the reigning champs are starting to fire at the right time of year.
FLYERS BACK IN ACTION ON SATURDAY – GET YOUR TICKETS HERE
"For us to come and have played the way we did in the last two games, obviously it sends a message that we're pretty dangerous in this league," Capitals star Kia Nurse said after the game.
"On our team we have so much depth, it could be any one of us who has a big day."
In what was the most anticipated match-up of Round 14, the winner would gain a significant mental edge over their opponent ahead of a possible playoff match-up in a few weeks.
UC fresh off its one-point victory against the second-placed Melbourne Boomers continued its momentum with the win.
Southside, backing it up for their second game in two days, were determined to secure the win for its beloved coach's 250th milestone but was simply outmatched.
Coach Cheryl Chambers has led the Flyers to their 16-4 record and the players were unhappy with their efforts in the milestone game.
"It's disappointing to play like that for her [Cheryl Chambers] in her 250th, she expects more and so do we," Aimie Clydesdale said.
"We certainly need to play a lot better than what we just did [before playoffs]…the message we need to send is that we can do it without her [Jenna O'Hea]."
It was Canberra's hot start and athleticism that gave them an early-lead, running the Flyers off their feet with a fast-paced offence simply too quick to stop.
Kia Nurse led from the front with 10 early points. Her first class finishing forcing the Flyers defence to collapse on her drives, opening up the floor for her teammates.
Maddison Rocci took advantage of the Flyers lacklustre coverage, burying multiple threes to help give the Capitals a 12-point lead at halftime.
Southside needed to respond quickly in the third to get back into the game but Nurse and Rocci completely took over, burying three triples between them in the first two minutes of the second half.
Offensively Southside couldn't find its rhythm, rushing plays and taking ill-advised shots. Mercedes Russell toiled hard for her 18 points, but the team as a whole never got going.
Southside remains on top moving into Round 15 but will need to respond in its next match-up against the Adelaide Lightning at home. While we couldn't keep up with the Caps yesterday we know that things can be different come playoff time, having already beat them on their home court in Round 9.
With only two games left in the season and a playoff spot secured there's only one thing left to play for in the regular season: home-court advantage! Win these two games and home-court is secured Flyers Family, so get around your Southside stars and let's begin our push towards the WNBL Grand Final Series!
NEXT FLYERS HOME GAME
SOUTHSIDE FLYERS VS. ADELAIDE LIGHTNING
When: Saturday 25 January @ 7:00pm
Tickets: Now available via Tixstar
Doors Open: 6:00pm
Where: Dandenong Stadium, 270 Stud Rd, Dandenong North