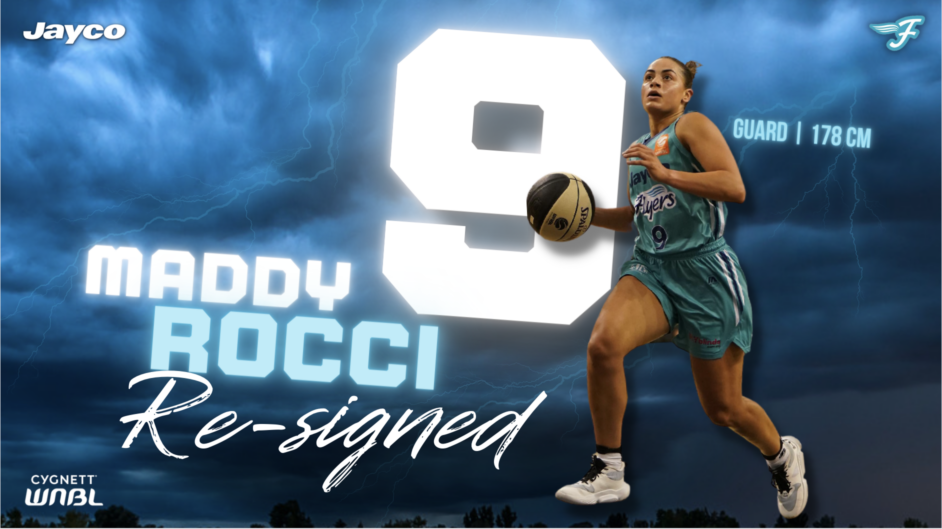 July 19, 2023 | Southside Flyers news
Maddy Rocci has continued to take her game to a higher level since joining the Flyers two seasons ago. Returning to Melbourne after being away for six years, the dual WNBL Championship player has become a true on-court leader in the point guard role, winning the Flyers MVP Award last season.
Her development has seen her inclusion in the Australian national team, the Opals, being part of the Opals FIBA Women's Asia Cup in Sydney last month.
"I love being back in Melbourne and being part of the Flyers. While we didn't get the ultimate prize last season, it was such an enjoyable year, and the Flyers home crowds were great. We love playing in front of our fans at the State Basketball Centre," Maddy said while preparing for the NBL1 finals with the Southern Districts Spartans in Queensland
Rocci believes the experience playing for the Opals will benefit her game going forward.
"Playing international basketball is a fantastic experience and you get to learn from the very best. I look forward to taking this experience back to the WNBL, it adds to the excitement of the upcoming season," Rocci added.
For Flyers head coach Cheryl Chambers, it was important, after establishing her role in just two seasons with the team, to ensure Maddy continued her career with the Flyers
"Two years ago we knew we were fortunate to be adding, not just a quality player, but also a quality person to our team and Maddy has certainly lived up to our expectations. She has continued to grow both on and off the court and is certainly an integral part of the team, which was highlighted by her winning our MVP last season," Cheryl said.
"We were fortunate to add such a quality young player to our team last year, she continued to grow during the season and will no doubt take her game to another level this year. Her speed is supported by quick hands, and she reads the play well. While we know she can score, she is also a very tough defensive player.
Rocci grew up in Werribee and lived around the corner from Werribee Stadium, although her early basketball was played in the backyard with her siblings (three brothers and a sister), before the competitive career started with the Werribee Devils when she was 11 years of age.
Her career highlights, include the two WNBL Championships, a Gold Medal with the Australian Under 18 Oceania Championships in 2016 and representing Australia in Under 17 and Under 19 World Championships and being a member of the Opals Squad in 2021 and 2022 and of course being part of the Opals bronze medal winning team in the recent FIBA Asia Cup.
Further player announcements will be made during the coming weeks and Flyers membership will be released in August.