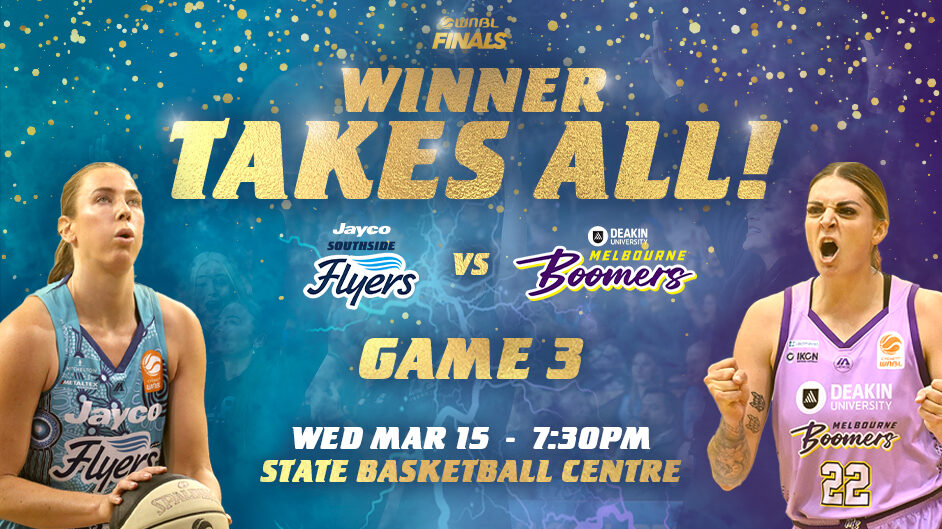 March 15, 2023 | Southside Flyers news
TONIGHT'S THE NIGHT
A Grand Final spot is up for grabs at the State Basketball Centre tonight when the Flyers host the Boomers in Game 3 of the Semi-Final Series.
Kayla "Special K" Thornton will be back in the Flyers line up for this 'all or nothing' game which will decide who will travel to Townsville for Game 1 of the Grand Final Series on Saturday night.
CLICK HERE TO PURCHASE TICKETS TO THE DECIDER
After winning all three games between the teams during the regular season and the first finals, the Flyers were unable to keep a clean sheet on Saturday night in the second game of the semi-final series, making it one win each in the finals. Meaning a Game 3 "Decider" is necessary.
Tonight is the "Decider" between the cross-town rivals, and you don't want to miss what promises to be an exciting game at the State Basketball Centre. Tip Off is 7:30pm – Doors open at 6:00pm.
Tickets are now available from just $5.
Click Here to Purchase
Southside Flyers vs. Melbourne Boomers
Tonight – Wednesday March 15
State Basketball Centre
Tip Off at 7:30pm
Doors Open at 6:00pm
Food and refreshments available from the food van and BBQ outside outside the stadium as well as from the outlets inside.