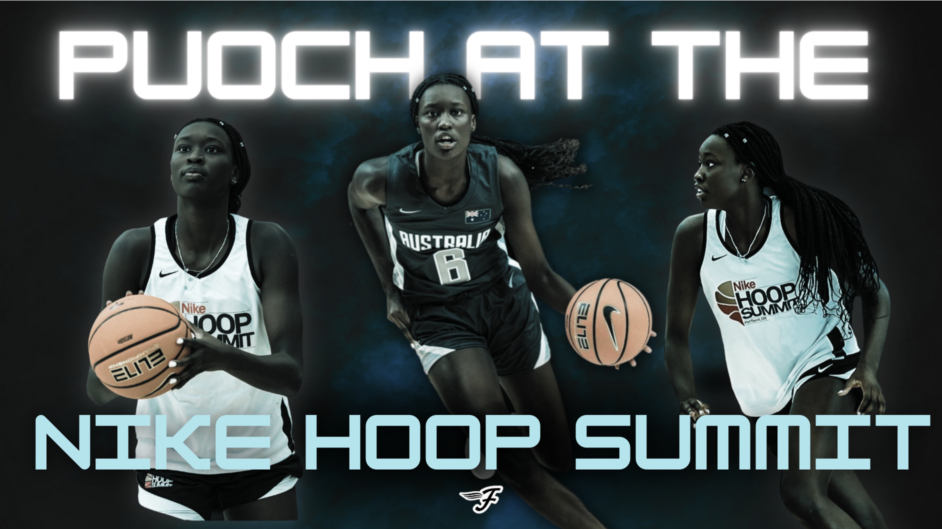 July 18, 2023 | Southside Flyers news
While most players had a rest after the WNBL season, not Nyadiew Puoch. Even after the Flyers made the WNBL Grand Final in what was her debut WNBL season, there was no time to rest for the Flyers' "Block Doctor".
Soon after the season Nyadiew, joined some of the best junior talent from all over the world as part of the Nike Hoop Summit in Portland, Oregon, the home of Nike.
This added to the excitement for the recently turned 19 year-old (she celebrated her birthday in late June) after being nominted for the Sixth Woman of the Year and Breakout Player of the Year in the WNBL seasn Awards.
Nike Hoop Summit
The Nike Hoop Summit is an international basketball all-star game sponsored by Nike. It showcases America's best high school senior against the best players from around the world who are 19 years or younger. Introduced in 1995, this year was the first year a women's game was part of the Hoop Summit.
The game was played at the Moda Centre in Portland, Oregon, the home court of the Portland Trail Blazers, while training sessions were held at the Blazers training facility. While Team USA, stacked with elite college-bound players, pulled away in the final quarter for a comfortable victory, Puoch played a starring role with 16-points and four rejections (maintaining her 'Block Doctor" reputation).
On her return from the Nike Hoop Summit, Puoch told The Pick and Roll, "You rarely get opportunities to play in a team full of girls from all over the globe. It was amazing. I never thought I'd get to do that."
Nyadiew is currently in Spain with the Gems, the Australian Under 19 Women's Team, at the FIBA U19 Women's World Cup. Australia's first game is against Spain on July 16 (AEST).