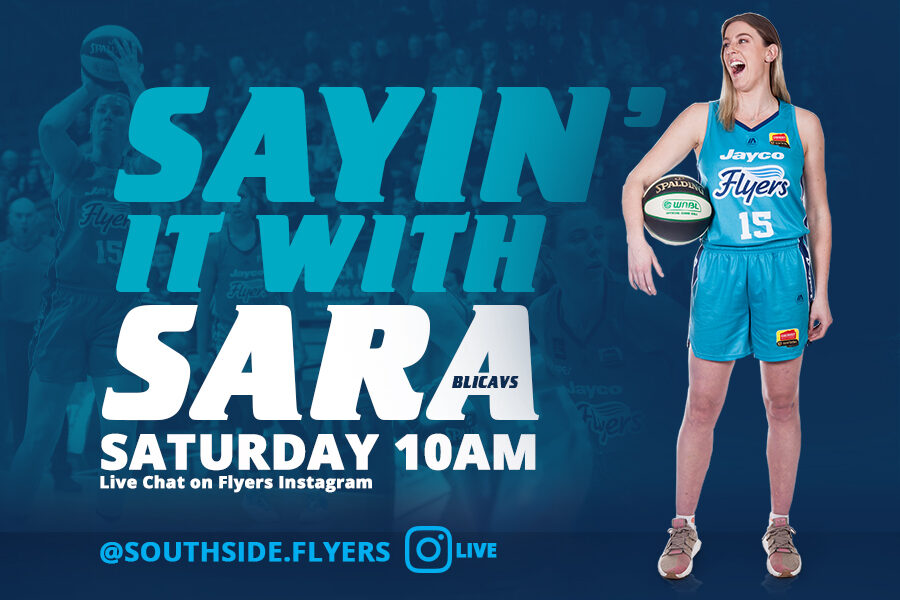 October 23, 2020 | Southside Flyers news
Sara Blicavs will have a Sunday morning away from the popular Sayin It With Sara segment on the Flyers Instagram Live this weekend.
On Sunday the Flyers will be making their way to Brisbane to commence 2-weeks in quarantine before travelling to North Queensland for the start of the 2020 WNBL season on November 12. With the travel requirements on Sunday, Sara has been forced to take a well-earned break from the show.
However Sayin It With Sara will be back and will continue right through the season.
"I have had a great time talking with the players and having some fun on Sunday mornings. The feedback has been positive and I hope all the Flyers supporters have enjoyed listening to the show and finding out a little bit more about the team," Sara said at the team's final training session at Dandenong Basketball stadium this week.
"Of course until we know the fixture, we will not be able to confirm the time for the show, but we will be continuing with our chats at some time in the week during the season. I am sure there will be plenty to talk about," Sara added.
Sayin It With Sara started on August 15 with Aimie Clydesdale as the very first guest and has featured, Bec Cole, Jenna O'Hea, Bec Pizzey, Leilani Mitchell (from the WNBA hub), Steph Blicavs, Liz Cambage (from her quarantine hotel in Adelaide), Rachel Jarry and Monique Conti. On September 27, the roles were reversed and Aimie Clydesdale took over as host with Sara being the 'guest' for the day.
Sara will be back with her special segment live on Flyers Instagram during the 2-weeks in quarantine and of course during the season. With a number of games being played each week, the day and time "Saying it with Sara" will vary each week so keep looking out for details.
To catch up on the all the chats and find out a little more about the players, visit the Flyers Instagram page IGTV or catch them all on the Southside Flyers Youtube channel.