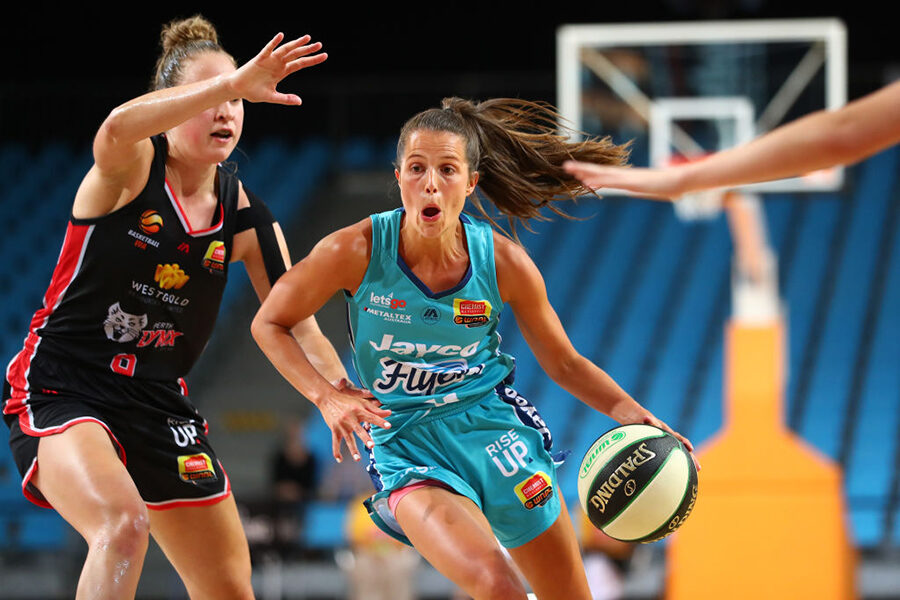 November 22, 2020 | Southside Flyers news
Match report via wnbl.com.au
The Jayco Southside Flyers shook off a fast start from the Perth Lynx to showcase their full array of firepower to turn an early 10-point deficit into a 46-point victory in the Chemist Warehouse WNBL on Saturday night.
With Darcee Garbin knocking down three of their five triples for the first period, Perth went up 10 in the first game at Cairns' Pop-up Arena.
But it was when Liz Cambage started receiving plenty of help that the Flyers took control and they put up 33 points in the second quarter to lead by 12 at the half.
Another 35 points in the third term saw that lead balloon to 33 and the Flyers went on to win 117-71 and improve to 4-1 while the Lynx are 1-4.
The 117 points scored by the Flyers was the highest score by any team this season with 96 of them coming in the last three quarters, and with Cambage only playing 16 minutes to finish with 21 points and seven rebounds.
Southside put up 39 three-point attempts and hit 15 with Sara Blicavs making 5/6, Bec Cole 3/4 and Rebecca Pizzey 2/3.
They also outrebounded the Lynx by 18 and forced them into 23 turnovers from which they scored 35 points along with 29 second chance points from the 23 offensive boards.
Cole added 20 points and five assists, Sara Blicavs 19 points and six rebounds, Monique Conti 11 points and three assists, Pizzey 10 points and three assists, Jenna O'Hea nine points and four steals, and Amy O'Neill eight points, four rebounds, three assists and two steals.
Cole was happy with the adjustments made after quarter-time by the Flyers.
"Our first quarter just wasn't good enough defensively. We knew that and we changed that in the second quarter," Cole said.
"We are athletes, we have an athletic team and we are large and quick, and we need to use that. This was a good stepping stone but we need to keep getting better and improve on that. We need to keep grinding games out and it starts at the defensive end.
"We know that if we play defence we can do margins like this, and our offence will come. What I love most about our team is that we can get up and play defence, and the people who train their butts off and came on and put on a show. It was awesome to watch."
Lynx co-captain Darcee Garbin did well holding her own against Cambage in their battle in the first half, and had 24 points and seven rebounds.
Katie Ebzery was strong early too and finished with 13 points and five assists but the Lynx just couldn't maintain their fast start.
The battle of Chemist Warehouse Opals bigs didn't disappoint early, with Darcee Garbin hitting three triples in five minutes for Perth while Liz Cambage was imposing herself for the Flyers with 13 first quarter points.
But the Lynx started well and led by as much as 10 before the tide turned during the second quarter even though Garbin and Cambage was a fascinating battle.
Cambage's supporting cast proved the difference, though, the longer it went and even point guards Monique Conti and Amy O'Neill ran rampant in the final period as the Flyers racked up the big win.
The Flyers now prepare for a Grand Final rematch with the UC Capitals on Monday while later that night also in Cairns the Lynx will face the Sydney Uni Flames.
Chris Pike is a freelance contributor to wnbl.com.au
Jayco Southside Flyers – 117 (Cambage 21, Cole 20, Sara Blicavs 19)
Perth Lynx – 71 (Garbin 24, Ebzery 13, Sharp 10)
NEXT SOUTHSIDE FLYERS GAME
Southside Flyers vs. UC Capitals
Mon Nov 23rd – 6:00PM AEST – Cairns Pop-Up Arena
Live on Kayo Sports!