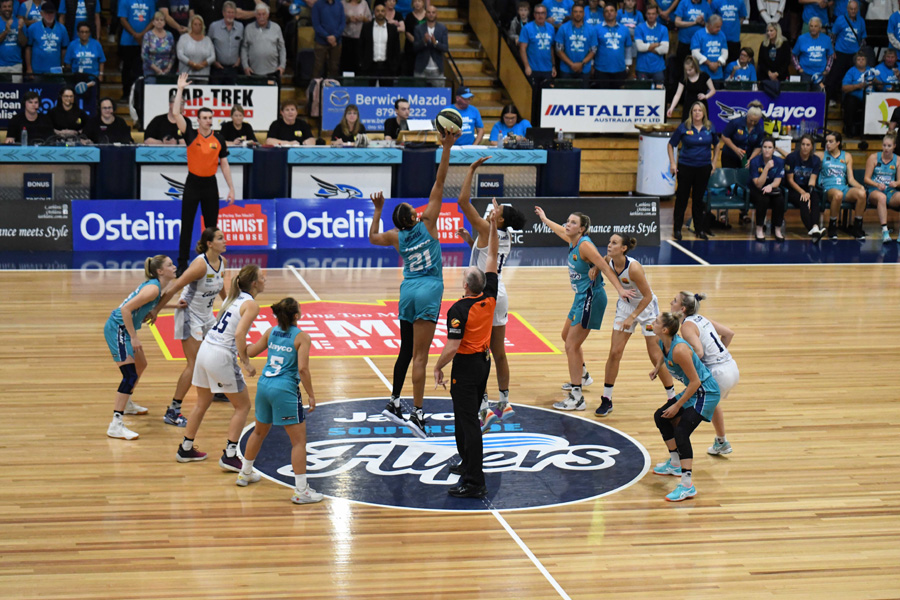 February 21, 2020 | Southside Flyers news
Your Southside Flyers are just one win away from the WNBL Grand Final series as we look to close things out against the Adelaide Lightning tomorrow night.
But that could prove easier said than done if  Game 1 was any indicator, with the Lightning challenging hard and finding some answers for the potent Flyers offense.
It's been hard for any WNBL team to hold the Flyers to less than 80 points let alone 70 but the Lightning did exactly that at Dandenong Stadium on Tuesday night. Their defensive gameplan held our Southside guards to a collective 12/39 (31%) from the field and they only gave up one quarter of more than 20 points; unfortunately in that same quarter they only scored seven points themselves.
GAME 2 TIPS OFF AT 7PM THIS SATURDAY IN ADELAIDE – CATCH IT LIVE ON KAYO SPORTS
It was that 'premiership' third quarter that allowed the Flyers to take the lead and control of the game, on the back of a brilliant performance by Mercedes Russell. While our guards struggled Mercedes could not be stopped at either end, picking up 20 points, 19 rebounds (8 offensive) and contesting every Lightning shot. The battle between her and the Lightning's Brianna Turner was pivotal in the success of both teams as Turner performed in a similar, if somewhat less dominant fashion for Adelaide.
Should our Southsiders be able to win that Russell-Turner battle again in Game 2 we'll be strongly placed to close this one out. Even if Clydesdale and Cole can't find their shot tomorrow night we know they'll bring their brilliant defensive games to Adelaide, pivotal to the Flyers success in the second half of Game 1. They were simply incredible after halftime as Southside soared back into the lead, sliding, stripping and stealing the ball away from Lightning's guards and wings.
That defensive brilliance will need to be applied once again to Steph Talbot and Lauren Nicholson who will no doubt be in Coach Chambers mind in the lead up to this one. They each had an off-night on Tuesday and will likely rebound offensively in Game 2; preventing them getting into rhythm will be key to a Flyers victory.
As any coach will tell you Flyers Family, defense wins CHAMPIONSHIPS! We've been known as a potent offensive team all year long but don't you worry: we can lock down our opposition when it counts and we'll be looking to do it again in Game 2.
Let's lock in, lock the Lightning down and lock up a spot in the WNBL Grand Final series…GO FLYERS!
Catch all the Flyers-Lighting Game 2 action LIVE from 7:00PM on Fox Sports Ch. 506 and Kayo Sports, to sign up for a FREE 14-Day Kayo trial visit: https://kayosports.com.au/