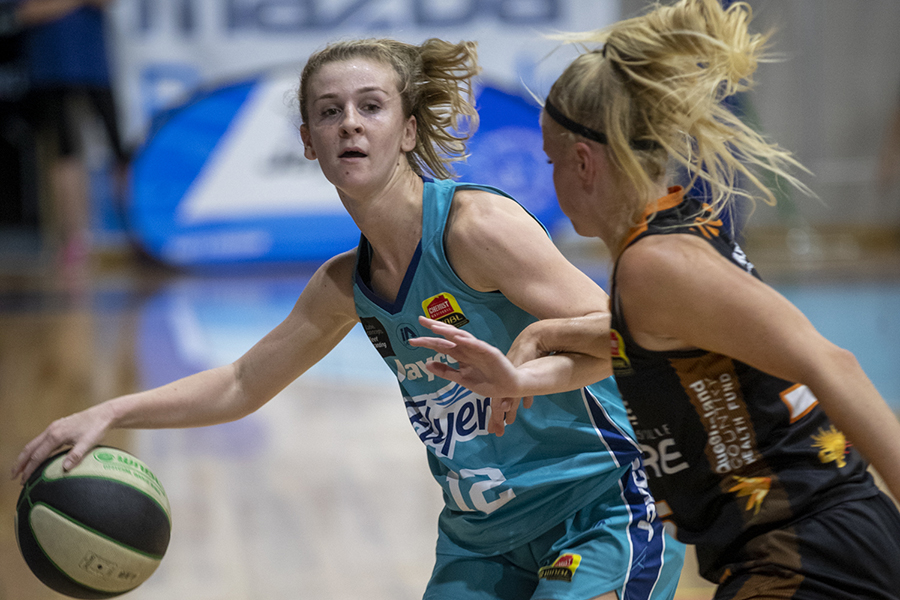 December 14, 2019 | Southside Flyers news
The Southside Flyers cruised to an 81 – 62 win over the Townsville Fire with another dominant display from the leagues top team.
Three-pointers and offensive rebounds told the tale as the class and toughness of the Flyers easily extinguished the Fire.
Youngster Anneli Maley had a big night and recorded her first double-double of the season (10 points, 10 rebounds), while Jenna O'Hea poured in 17 points on 7/9 shooting.
Maley spoke on her ability to come into games and have an immediate impact off the bench.
"It's a role you've got to learn," Maley said postgame. "I just have to keep going in and playing hard every time because that's what my team needs."
A hot Southside home crowd had Dandenong Stadium rocking for the Friday night clash. Southside was aiming to make it three from three against Townsville, after previously defeating the Fire in week 1 and week 6.
However, the Fire came in with some momentum, fresh off their second win of the season against the Dandenong Spirit in week 7. Townsville started the game off hot with a pair of triples from Vanloo, but Mercedes Russell gave Southside the early edge with some bully ball in the post.
With only nine points in it at half time, some big shots from Jenna O'Hea early in the third proved once again that she is world class.
"Our veterans just bring another level of basketball smarts and basketball IQ," Maley said. "I learn so much just from seeing them running around on the floor."
The remainder of the second half was dominated by Southside, stretching out its lead allowing youngsters Steph Reid and Keira Rowe to see some meaningful minutes.
Next up, Southside heads to Canberra to take on the UC Capitals, while Townsville will look to bounce back against the Sydney Uni Flames.
SOUTHSIDE FLYERS VS. UC CAPITALS
When: Sunday 15 December
Tip Off: 5:00PM
Watch it LIVE on Fox Sports 503 or Kayo Sports