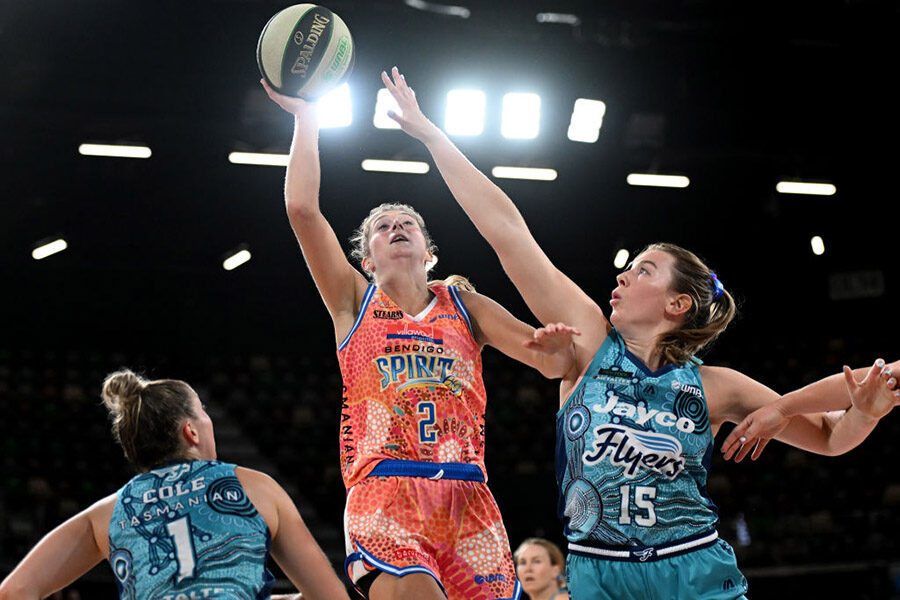 February 28, 2022 | Southside Flyers news
After a tough back-and-forth matchup all night in Hobart our Southsiders were overrun in the fourth, unable to overcome a late surge by the Bendigo Spirit.
This athletic and physical contest was tight throughout with both teams trading leads up until the tied third quarter break with fans at MyState Bank Arena ready for a nailbiter.
However Bendigo showed the spirit and fight that they're named after in that final period, locking the Flyers down on defense to outscore us 26-10 and take the 16 point victory.
Our no. 1 issue on the night and likely in our next Hobart contest with Bendigo was high-energy forward Anneli Maley, who lept, pounced and soared her way to 35 points, 18 rebounds and 6 assists on the night. Keeping her off the glass is easier said than done but for the Flyers to take our next matchup with Bendigo they'll have to do a better job at boxing Maley out and denying her the ball inside the three-point arc.
Offensively our Flyers will need to get more out of their bench, getting just 8 points total from non-starters on the night. Flyers captain Jenna O'Hea had a particularly off night in her return to action, shooting just 1-10, and we know that Jenna will rebound strongly from that performance.
Maddison Rocci and Rebecca Cole are two Flyers who need no rebound performance after their strong nights, the one real bright spot in this tough loss to Bendigo. They combined for 48 points on the night and have formed a really strong pairing in our backcourt this season, something to lock into for the rest of this year and the hopefully the next!
This was the first of two Flyers-Spirit games to be played in Hobart in an exciting week for Tasmanian basketball fans, bringing the WNBL to the Apple Isle for the first time in over two decades. We'll get the opportunity for our revenge this Wednesday night in what should be another tough battle in Hobart.
Heads up Flyers Family! We've got another Tassie chance coming up, time to huddle up, spread our wings and soar in Hobart…GO FLYERS!
THIS WEEK'S FLYERS ACTION
Southside Flyers @ Bendigo Spirit
Wednesday March 2nd – Tip Off 6:00PM
MyState Bank Arena, Hobart
Southside Flyers vs. UC Capitals
Saturday March 5th – Tip Off 7:30PM
Dandenong Stadium
TICKETS: www.bitly.com/flyersround13