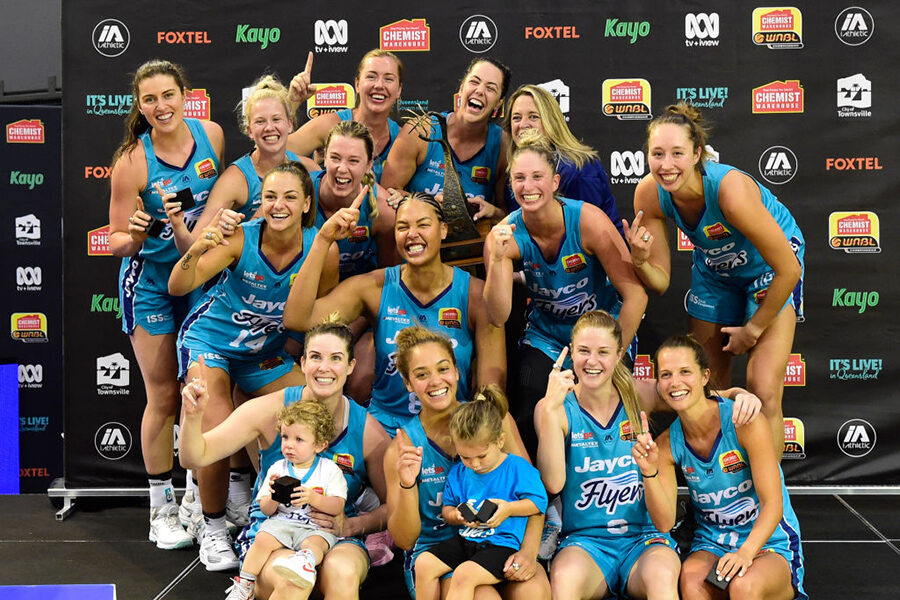 December 20, 2020 | Southside Flyers news
Your Southside Flyers are the 2020 Chemist Warehouse WNBL Champions!
After a tense first three quarters our Southsiders overwhelmed the hometown Townsville Fire in the fourth, running out 99-82 victors in a superb team performance. Leilani Mitchell took home the Grand Final MVP and Rachel Sporn Medal for the Flyers after a brilliant individual game including 31 points, 5 assists and 5 3PM!
All in all, the perfect result after an incredible season #FlyersFamily. Thank you to all of our corporate partners, members, staff and fans for your incredible support during a crazy WNBL season in Queensland, it was anything but a normal campagin but we all pulled together to help our Southsiders over the line and we're now all CHAMPIONS!
Match Report via wnbl.basketball
They were on a redemption mission this entire 2020 Chemist Warehouse WNBL season but they had the pressure of expectations too and the Jayco Southside Flyers have realised their potential with a 99-82 Grand Final victory over the JCU Townsville Fire on Sunday.
As the old Dandenong Rangers, the club won championships in 2004, 2005 and 2012 but it has been a long wait since with a name change to the Southside Flyers along the way.
Since that last title, there was Grand Final losses in 2017 and earlier in 2020, preliminary final defeats in 2013 and 2014, and semi-final exits in 2015 and 2016.
But that was all put behind them as they claimed the championship with the 17-point win in front of a full house at Townsville Stadium.
The Flyers now win the championship on the back of a nine-game winning streak and they did have to overcome an early deficit against the young and excited Fire team playing in front of their home fans.
Southside also only had Liz Cambage for three minutes in the first half as she picked up two early fouls. But it was Leilani Mitchell who put the Flyers on top with 21 points and five three-pointers in the first half alone.
Cambage then came on to deliver 12 points in the third quarter and among plenty more big shots, Bec Cole produced some dagger threes in the fourth quarter to help the Flyers end up triumphant for the WNBL season spent in Far North Queensland.
Mitchell was named Grand Final MVP as she became a WNBL champion for the third time. She finished the afternoon with 31 points, five assists and four rebounds including going 5/7 from beyond the arc.
Bec Cole won her first WNBL championship and was instrumental in the result with 22 points, five steals and three assists while Cambage still put up 14 points and five rebounds in only 15 minutes to win her first title since 2011 with the Melbourne Boomers.
Cole couldn't hide what the result meant to everyone involved straight afterwards.
"It feels like I've been waiting 20 years to do this and I'm just so proud to do it with these girls, representing Southside Flyers and have our family and sponsors here. I'm pretty speechless," Cole said.
"It means the world. It means that in 2020 with all the blood, sweat and tears that we went through down in Victoria was worth it all. We are so emotional, and it just shows this creates friendships and memories to last a lifetime."
Inspirational captain Jenna O'Hea overcame a knee injury to lead the Flyers to the title and had five points and five rebounds to celebrate her third WNBL title.
"It's a little bit indescribable right now, it's been a long time between drinks to win a championship and we got so close last season," O'Hea said.
"Until today 2020 has been a roller coaster for everyone so to finish this way with this group of girls, there's no better feeling."
Steph Blicavs also won her third championship and had eight points while Sara Blicavs earned her second ring with seven points, nine rebounds and three assists.
Rachel Jarry is now a two-time WNBL champion and had six points and three rebounds with Aimie Clydesdale also winning for a second time with four points, three boards and three assists.
Rebecca Pizzey scored two points and won a championship for the first time as did Monique Conti, Taylah Giliam and Saraid Taylor.
Townsville started the Grand Final strongly to lead 8-2 but Southside responded with the next eight points as the first half became one of runs for both sides.
Mitchell, though, was the difference and went on to hit five three-pointers for the first half which helped the Flyers to the 48-46 advantage at the main break.
Cambage then came out possessed in the third quarter with eight quick points and 12 for the term as the Flyers' lead grew to 10. Cole kept the advantage in double figures to start the fourth and by the time she nailed another with 2:50 to go, the lead was 19, and still 17 by the buzzer.
Chris Pike is a freelance contributor to WNBL.basketball
Jayco Southside Flyers – 99 (Mitchell 31, Cole 22, Cambage 14)
JCU Townsville Fire – 82 (Nicholson 20, Payne 14, Murray 11, Heal 11)
Rachel Sporn Medallist (Grand Final MVP) – Leilani Mitchell (Southside Flyers)