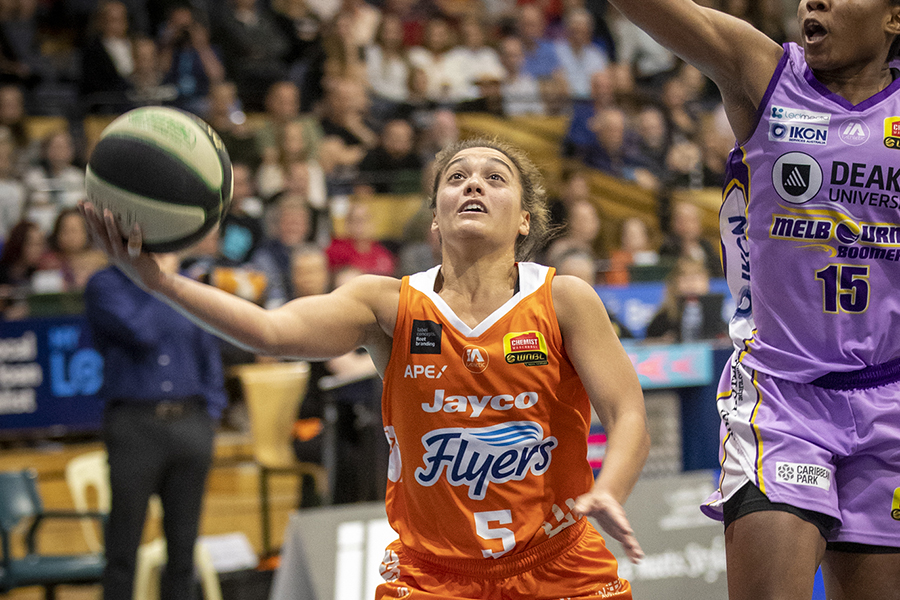 December 8, 2019 | Southside Flyers news
The Southside Flyers made it four in a row on Saturday night, defeating the Melbourne Boomers 89 – 82. The Melbourne derby drew a lively crowd which made for a raucous atmosphere and the contest didn't disappoint.
After a slow-start, the Flyers responded and built a lead early in the second which it maintained for most of the game. The Boomers closed the gap late in the fourth, making for a nervous final few minutes but the Flyers were just too strong.
Southside proved it has the best starting five in the business with all starters scoring in double figures yet again. Jenna O'Hea led all scorers with 22 points while Leilani Mitchell had 18 of her own.
Fans from both sides packed Dandenong Stadium to the rafters with spectators decked out in orange, supporting UN Women Australia's bid to end domestic violence.
"The crowd was so great," Jenna O'Hea said postgame.
"You could really here them and they really helped keep us in-front."
There was plenty on the line for both sides in the rivalry match-up. For the Flyers, a win meant retaining top spot on the ladder and moving to 10-1 on the season.
While for the Boomers, they had a chance to rectify their 'Cup Eve' defeat to Southside and continue climbing the table.
Each side boasted three-game winning streaks and wouldn't go down easily, making for a tough and physical contest from the tip-off.
Southside was fresh off back-to-back road wins in Perth and Adelaide and took some time to get going, trailing at the end of the first 19 – 22.
Lindsay Allen was aggressive for the Boomers early, wreaking havoc for the Flyers with her hard drives to the rim and court vision.
It was defence that turned the game around for Southside. Switching off screens, the size and versatility of the Flyers made it tough for Melbourne to score. With it's driving lanes closed, Melbourne relied on outside shouting and couldn't find the bottom of the net.
"We were definitely a bit sluggish, it's been a big week," O'Hea said.
"But we were able to turn it up and get our legs going which got us back into it."
By half time, Southside had a commanding 13-point lead at 50 – 37.
The second half was a see-sawing affair, the Boomers refused to quit, but the Flyers had an answer for everything.
Things tightened up in the final few minutes as the Boomers mounted a comeback and cut the lead to only two-points with four minutes on the clock. But Southside once again showed that it is as cool as ice and promptly put the game to bed.
Southside moves to 10-1 on the year while Melbourne falls to 7 – 3.
NEXT FLYERS HOME GAME
SOUTHSIDE FLYERS VS. TOWNSVILLE FIRE
When: Friday 13 December @ 7:30pm
Tickets: Now available via Tixstar
Doors Open: 6:30pm
Where: Dandenong Stadium, 270 Stud Rd, Dandenong North